Rome fashion bristles at Armani jibe from Paris
By Deepa Babington
ROME (Reuters Life!) - Giorgio Armani's comment that Rome has killed off its fashion scene by parading inept designers has ruffled feathers in the Italian capital.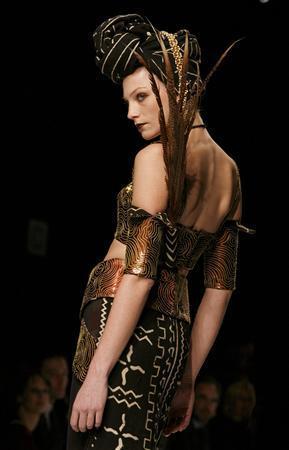 Armani was quoted in Italian media last week as saying in Paris that Rome "has killed high fashion by showcasing people who didn't merit it" and that the French capital offered more for designers.
Armani's office had no comment, but many of the designers in Rome say that if one of Italy's most famous fashion names was true to his Italian roots he would hold his shows in Rome rather than cast disparaging remarks about the people who do.
"An Italian in Paris should not be discrediting Italian work at a time of economic crisis for fashion and as the biggest catwalk shows get underway in Italy," Stefano Dominella, chairman of the Gattinoni fashion house and former chairman of Rome's fashion week, told Reuters.
"Armani should be more patriotic. His name is so strong, he should not make provocations of this kind."
He suggested Armani restore big name power to Rome's struggling fashion week by unveiling collections in the city, which has a long tradition of haute couture and launched designers like Valentino but lacks Paris' glamour and buzz.
Gattinoni's designer Guillermo Mariotto, who unveiled his spring collection in Rome on Sunday, told Reuters that as an Italian he was proud to show in Rome and would never move to Paris, adding that at any rate: "I see no future of couture in Armani."
Neapolitan designer Fausto Sarli, a long-time fixture on the Rome haute couture scene, agreed that Armani's comments did not help as the fashion world grapples with recession-hit sales.
"At times like this, there should be a joint effort to face the crisis," said Carlo Alberto Terranova, Sarli's spokesman and associate, adding that Armani ought to bring his collections to Rome to raise the city's fashion profile.
"Also because when it comes to creativity, in Rome we're not second to anyone. One cannot allow oneself to say Milan or Rome or Paris is better."
Nicoletta Fiorucci, the new chairman of AltaRoma, the group that organizes Rome's fashion weeks, said she saw Armani's point and that under her watch the twice-a-year events would only include high-quality designers.
She has axed some designers from the agenda and tried to raise the event's profile by pairing catwalk shows with exhibits and art, though critics complain it is chaotic at times and lacks the buzz that draws in top fashion buyers and celebrities.
"The tradition of haute couture is divided between Rome and Paris," Fiorucci said. "I take (Armani's words) as a provocation, not as the truth revealed."
(Editing by Paul Casciato)
© Thomson Reuters 2023 All rights reserved.