Rivoli eyes India, Saudi expansion
Tamara Walid and John Irish
DUBAI (Reuters) - Dubai's Rivoli Group is looking to enter India and Saudi Arabia this year to help mitigate a drop in luxury sales, but will maintain a "prudent" expansion plan amid the financial crisis, its managing partner said.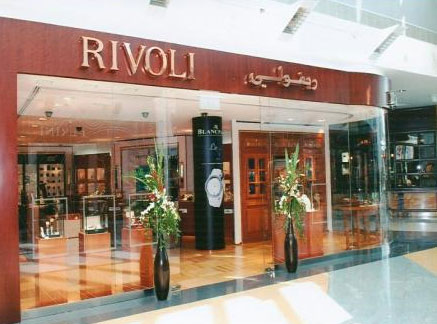 Rivoli Prestige boutique, Emirates Towers in Dubai
Rivoli, in which Swatch Group (UHR.VX) owns a stake, has about 300 stores in the lower Gulf area and is most likely to enter India first where it is easier to set up retail operations than in Saudi Arabia, said Ramesh Prabhakar.
Finding the right people to operate the business is trickier in Saudi Arabia, Prabhakar said at the Reuters Global Luxury Summit in Dubai.
Established in 1988, Rivoli Group is one of the largest importers, distributors and retailers of luxury brands in the Middle East with product categories ranging from watches and writing instruments to menswear and accessories.
"We are being very prudent on expansions in 2009 and going forward," he said, adding that he did not see any signs of a pick up in the retail market, especially in the United Arab Emirates, the group's largest market.
"No signs of recovery. It is flat. I am hoping in the last quarter" the market would pick up, he said.
The group saw a drop of between 15-35 percent in its luxury products section between November last year and May this year, compared with the same period a year ago, as buyers have become more cautious with their money, he said.
The group, which sells watch brands such as Omega, Tag Heuer Tissot and Boss, said its top watch brands were down 10-12 percent this year, compared to last year.
Prabhakar said there were no plans to sell any stakes in the company at present.
Investment firm Dubai International Capital, owned by the ruler of the emirate, bought a stake in the firm in 2007. In July last year, Swiss watchmaker Swatch Group acquired a stake in Rivoli, announcing it will "support Rivoli's regional expansion strategy including its entry into the Kingdom of Saudi Arabia and India."
(Additional reporting by Daliah Merzaban, Dania Saadi, and Amena Bakr; Editing by Inal Ersan; Editing by Rupert Winchester)
(For summit blog: summitnotebook.reuters.com/)
© Thomson Reuters 2023 All rights reserved.