Rising raw materials to pinch luxury margins
May 24 - Record high prices for raw materials such as gold, silver, diamonds, leather and cashmere will squeeze luxury goods groups' margins this year as price rises, will only absorb part of the hit.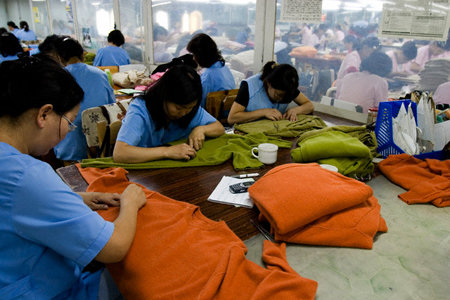 Gobi Cashmere factory in Ulaanbaatar, the largest cashmere factory in Mongolia (Photo: Corbis)
As the global economic recovery picks up speed and emerging markets like China see booming growth rates, commodity prices spiral, boosting input costs for companies.
Prices for precious metals, seen as alternative investments, have soared, supported by a weak U.S. dollar and low interest rates, while other raw materials, such as leather, cotton or cashmere, have become scarce due to high demand from Asia.
"Companies are concerned about high raw material and production costs. In the luxury space, high raw material prices will, however, have a smaller impact than at other consumer companies because they represent a smaller percentage of their cost base," fund manager Scilla Huang Sun told the Reuters Global Luxury and Fashion Summit.
Comfortable gross margins of 55-75 percent, a production mainly located in Europe, where wages do not explode like in China, and strong pricing power offer luxury goods groups some shelter from cost pressures, said Huang Sun, who manages a luxury fund at Swiss & Global Asset Management.
Gold rallied almost 40 percent in a year to a record high above $1,575 an ounce in early May but has since retreated as the U.S. currency bounced from lows, making dollar-priced commodities more expensive for holders of other currencies.
At the end of April, average prices of certified polished diamonds were 19.6 percent higher than a year earlier, diamond entrepreneur Martin Rapaport's benchmark price list showed.
"I think diamonds' price will continue to rise until interest rates go up," Rapaport told Reuters in an interview.
Higher interest rates prompt diamond cutters to sell more stones, thus increasing supply in the market, as they seek to lower their inventory costs, while also making consumers more wary about spending and giving potential diamond investors good reasons to keep their money in the bank.
"High raw material costs hurt our margins because you cannot raise prices every time input costs rise. For Parmigiani, these costs have doubled over the last 2-3 years," Jean-Marc Jacot, head of upscale watchmaker Parmigiani, told the summit in Paris.
Jacot said, however, that very wealthy Chinese or Russians are ready to loosen their purse strings for top-quality items.
Management consulting firm McKinsey & Co conducted research which showed that 28 percent of people in China were ready to pay full price for luxury items, compared with only 6 percent in Europe and 9 percent in the United States.
North American jewelry retailer Harry Winston Diamond Corp said colored diamonds have grown increasingly popular with Chinese consumers.
"Because of the prohibitive price of white diamonds, I believe that they start to love colored stones as an alternative, which can have a nice volume at a moderate price," Chief Executive Frederic de Narp told the Summit in New York.
He said Harry Winston's 40 percent stake in a diamond mine has let it greatly benefit from the soaring prices.
CHEAPER SILVER
Mid-range jewelry and watch makers, whose customers are more price-sensitive, may find it harder to raise prices and will look at other solutions, including using cheaper materials.
Even though silver prices also nearly doubled over the past year to a record high of $49.51 per ounce late last month, the less-costly metal could replace gold in some jewelry items.
"With an increase in the price of gold, I think silver jewelry will see a new season in the market," Italian fashion house Roberto Cavalli's CEO Gianluca Brozzetti told the summit.
Italian goldsmiths have experimented with gold-plated silver jewelry and launched silver collections even for the upscale market to soften the impact of metal prices for consumers.
Fashion and accessories makers have to cope with rising prices for cotton, cashmere and leather.
Thierry Gillier, founder and owner of fashion brand Zadig & Voltaire, said demand for cashmere is strong and he does not expect prices to go down anytime soon.
"For the time being, this is not a problem. Our margins are big enough to absorb this," he said, adding he is trying to keep prices stable.
CHANGING HABITS
Leather prices are also up. Hermes Chief Executive Patrick Thomas told Reuters earlier this month that the price of various leathers used by the luxury group had on average risen by 10 percent in the last year alone.
Changing eating habits in Western Europe may be one of the reasons why veal and calfskins, favorites for luxury handbags, have become scarce.
"Tanneries use waste products from the meat industry. People eat less veal nowadays, so these skins are harder to get," Stefano Giannotti, manager of Italian leather broker Fargo said.
He also said China, a country that used to export raw hides, has now turned into an importer. Domestic demand for skins has risen and production has dropped as Chinese farmers have left the countryside for the cities.
Cavalli's Brozzetti said the significant growth in accessory consumption has led to leather sourcing problems. "There are some of the biggest players who are buying tannery companies to make sure they get the supply of the material they need," he said.
By Silke Koltrowitz and Nathalie Olof-Ors
(Additional reporting by Mark Potter in London, Phil Wahba and John Tilak in New York)
© Thomson Reuters 2023 All rights reserved.