Retailers try to thrive in tumultuous climate
By Nicole Maestri
NEW YORK (Reuters) - Retailing is normally not for the faint of heart, but the current state of the industry is enough to make even the most time-tested veteran swoon.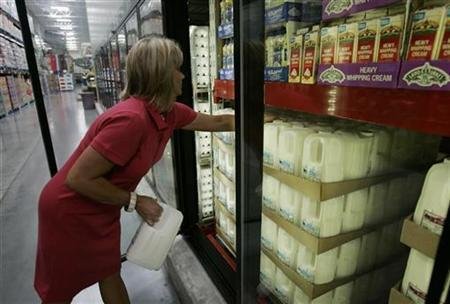 In the United States, consumer spending has slowed as the average price of a gallon of gas has topped $4, the housing market sags, access to credit has tightened and food prices have jumped.
J.C. Penney Co Inc Chief Executive Myron Ullman has called this the most unpredictable environment in his 39-year retail career, while Wal-Mart Stores Inc CEO Lee Scott said last week that if the company had not been able to win shoppers by flexing its discounting muscles, he would probably be out of a job.
"I thank God we are positioned like we are this year," Lee Scott told analysts.
At the Reuters Consumer and Retail Summit in New York and London June 16-18, executives from Borders Group Inc , Perry Ellis International Inc , Jones Apparel Group Inc , Toys "R" Us, Best Buy Co Inc and other companies will discuss how they are navigating these uncertain times.
They must juggle inflationary pressures, reluctant shoppers and intense competition while facing the looming challenge of enticing people to spend during the crucial holiday season without sacrificing too much profit.
SQUEEZED BY JOB MARKET, ENERGY PRICES
For the four months through May, the average monthly rise for U.S. retail chain sales at stores open at least a year is 2 percent. That trails the 2.1 percent advance notched at this point last year and the 3.6 percent rise in 2006, according to the International Council of Shopping Centers.
Excluding Wal-Mart's results, which have been outpacing competitors, sales are up just 0.9 percent -- far below the gains of 2.6 percent last year and 4.8 percent the year before.
"Households are becoming squeezed as the harsh job market holds down wage growth while the costs of energy and food rise rapidly," Mark Zandi, chief economist for Moody's Economy.com, wrote in a note.
The difficult conditions are shaking up the retail sector. Linens 'n Things, Sharper Image and Goody's Family Clothing have filed for bankruptcy, while Starbucks Corp , AnnTaylor Stores Corp , Home Depot Inc and others have closed stores or slowed expansion plans.
Borders Group, the No. 2 U.S. bookseller after Barnes & Noble Inc , has put itself up for sale. Meanwhile, it has been closing underperforming stores and taking steps to turn around its business, which has suffered from the pullback in consumer spending.
Jones Apparel has formed a joint venture to develop, market and license the fashion brand Rachel Roy, a move that broadens its exposure to higher-end shoppers, who are often less worried by a weak economy.
"We see tremendous opportunity in Rachel Roy as a designer and brand," Chief Executive Wesley Card said on Thursday.
GLIMMER OF HOPE?
Stocks got a boost on Thursday after the U.S. Commerce Department said May retail sales rose 1 percent, much higher than expected, as many consumers had more cash in their wallets from government tax rebate checks.
"The consumer is holding up surprisingly well," said Global Insight Chief U.S. Economist Nigel Gault.
But aside from the tax rebates, he said consumers were still in pretty bad shape. "It's hard to see them keeping up this pace of spending."
That has retailers cutting inventory orders, hoping to protect margins by avoiding clearance sales. Even if that succeeds, however, margins are still under pressure from inflation, which is raising the cost of doing business.
"The current macroeconomic climate and weak consumer spending trends in the U.S. do not allow retailers to pass cost increases down the supply chain to their customers," Citigroup analyst Deborah Weinswig wrote in a research note.
Now the biggest margin-pinching event -- the holiday shopping season -- is quickly approaching.
This is a crucial time for retailers because it can account for 25 percent to 40 percent of their annual revenue. But whether these companies can muster much holiday cheer out of cash-strapped consumers this year remains to be seen.
(Editing by Lisa Von Ahn)
© Thomson Reuters 2023 All rights reserved.