Retailers set alarm bells ringing on European growth
June 23 - European shoppers are cutting back on discretionary purchases like televisions and furniture as their incomes are squeezed, fuelling fears the region's faltering economic recovery could slide into reverse.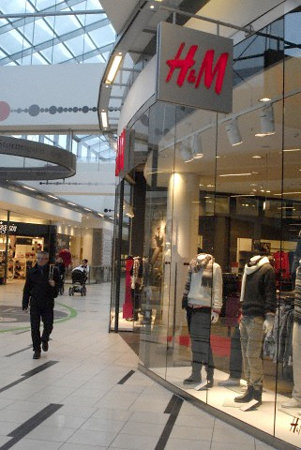 H&M store in Denmark (Photo: Corbis)
Consumers, facing rising prices and the trickle-down effect of government austerity measures, are even trying to economise on everyday items like groceries, cherry-picking goods on promotion, buying cheaper own-brand products and shopping more in hard-discount stores.
That's bad news for most retailers, from specialists like computer games chain Game Group, electricals groups Dixons and Kesa and fashion retailer H&M, to supermarket giants like Carrefour, Tesco and Metro -- all of which missed sales or profit forecasts in recent weeks.
With households contributing more than half of Europe's gross domestic product, it's bad news for the economy as well.
"Shoppers appear to be behaving like they expect a double-dip recession, and that risks becoming a self-fulfilling prophecy," said Bryan Roberts, director of retail insight at consultants Kantar.
Europe's recovery so far has been led by the manufacturing and construction industries, which have benefited from a boom in demand from the fast-growing economies of Asia.
According to theory, a consumer recovery should follow as jobs are created and people feel more secure about the future.
But there's been little sign of that to date.
Instead, over two-thirds of consumer staples companies in Europe's STOXX 600 index .STOXX missed earnings forecasts in the first quarter of this year, making them the worst performing sector, according to Thomson Reuters data.
Worryingly, there are now signs the recovery in other industries is running out of steam across the world.
Data on Thursday showed China's manufacturing sector close to stalling, while the Federal Reserve cut its U.S. growth forecast on Wednesday and gave no indication it would be prepared to extend the stimulus that kickstarted the recovery.
The picture is similar in Europe. Business surveys on Thursday showed the euro zone's private sector saw tepid growth this month, and would have slipped back into contraction without the support of Germany and France.
The message from company results is if anything bleaker. Philips (PHG.AS), Europe's top consumer electronics producer, issued a profit warning on Wednesday, while Adobe Systems, the world's biggest maker of design software, said on Tuesday it was seeing weakness in Europe.
Economists are worried, though not yet ready to press the panic button.
"It is probably premature to start fretting about a double-dip recession," said ING's Martin van Vliet, adding the euro zone data pointed to quarterly growth of about 0.4 percent.
"The euro zone recovery is clearly losing steam, but retains forward momentum."
CONFIDENCE IS EVERYTHING
But there are risks, not least if Greece fails to push through the fresh round of austerity measures needed to avoid a sovereign default.
For consumers, confidence is everything, and with economic growth faltering and stock markets sliding, there seems little reason to expect that will pick up soon.
On the contrary, recent news from retailers suggests shoppers expect things to get worse.
Some of that is to be expected. There is no great surprise store groups are struggling in the debt-ridden countries on the periphery of Europe, with Tesco, for example, reporting a drop in sales in Ireland, Metro's MediaMarkt-Saturn electricals business suffering in Spain and Dixons struggling in Greece.
What has caused consternation, though, are the signs of slowdown in stronger markets, like France and Germany.
Carrefour, Europe's biggest retailer, last week warned first-half earnings in France would fall around 35 percent, much more than analysts' expected, while H&M, Europe's second-biggest fashion chain, this week missed quarterly profit forecasts, squeezed between weaker-than-expected sales and rising costs.
Some of the problems may be structural, with shoppers switching from stores to the internet, which continues to see booming sales. And some may be company specific. Carrefour, for example, has admitted to a tactical mistake in raising its prices too early, while H&M has made a conscious decision to freeze prices despite rising costs in a bid to take more market share.
However, the number and variety of retailers flagging weaker demand suggest a broader problem that has extended beyond areas of discretionary spending and into everyday purchases like food.
Dutch grocer Ahold said this month it was struggling to pass on higher food prices, while research in Britain shows sales at discount grocers Aldi and Lidl surging 18 percent as shoppers look to save money -- a level not seen since the depths of the recession.
The signs of further retrenchment among consumers has taken its toll on retailers' shares. The STOXX Europe 600 retail index .SXRP is down 6 percent this year, the third worst performing sector after travel and leisure, which is also reliant on consumers, and mining.
The sector is trading at 14.3 times forecast earnings, well below the post-recession high of 18 in March 2010. But with the earnings forecasts under growing pressure, it seems unlikely investors will rush to the conclusion that retailers look cheap.
Analysts have made more cuts to European earnings forecasts than upgrades in each of the last three months, with only the materials, industrials and energy sectors seeing more upgrades than downgrades.
By James Davey and Mark Potter
(Editing by Chris Wickham and Sophie Walker)
© Thomson Reuters 2022 All rights reserved.