Retailers ease Christmas fears but still gloomy
By Mark Potter and James Davey
LONDON (Reuters) - A string of retailers eased fears of a collapse in consumer spending over Christmas on Tuesday but warned rising unemployment and plunging house prices would blight trading for months to come.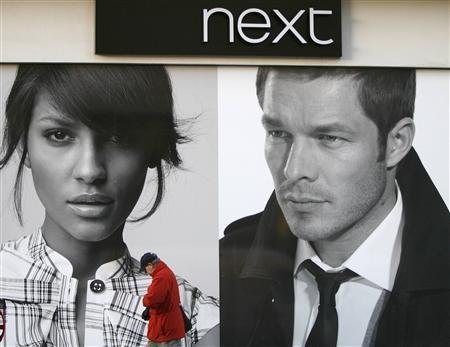 The cautionary comments from the likes of fashion chain Next and department stores group Debenhams were backed by surveys showing tumbling house prices, a weakening services sector and sliding consumer morale.
The data and retail pessimism will keep pressure on the Bank of England to deliver another big cut in interest rates from the current two percent on Thursday.
Britain has slashed interest rates and cut taxes in a bid to ward off a deep recession. But a stream of gloomy economic news and retail business failures suggests worse is still to come.
The Nationwide Building Society reported a record 15.9 percent annual drop in house prices and sliding consumer confidence in December.
Another survey showed the services sector contracting at a near-record pace and shrinking for the eighth month in a row.
There were "few meaningful signs of any turnaround," said RBS economist Ross Walker.
In the retail sector, the Times said landmark store group Marks & Spencer would announce over 1,000 job losses on Wednesday, while Tesco, Britain's biggest retailer, kept up the pressure on the industry by announcing 3,000 price cuts.
Debenhams Chief Executive Rob Templeman said lower interest rates, taxes, food and fuel prices should all help consumers in the coming months, but rising unemployment meant a quick recovery was unlikely.
"The thing that drives consumer behaviour more than anything else is: have I got a job," he said on a conference call.
NO PROFIT WARNINGS
Debenhams, Britain's second-biggest department stores chain behind employee-owned John Lewis, reported a 3.5 percent drop in sales for the 18 weeks to January 3 at stores open more than a year, better than many analysts had feared.
The group, which runs almost 150 stores across the UK and Ireland, also said pretax profit had risen over the period, confounding fears that big discounting in the run-up to Christmas would hit profits.
Templeman said Debenhams had not cut prices or promoted much more than last year, but it had backed up its offers with a stronger public relations offensive.
Gross profit margins were flat over the 18 weeks, helped by demand for the group's "Designers at Debenhams" ranges which are more profitable than sales from concessions.
Debenhams, whose shares have plunged over 80 percent in the past two years on fears about its ability to pay off its debts, also eased some fears about its finances.
Templeman said the firm already had the 100 million pounds it needed to make a debt repayment in the Spring and it had not "pushed any buttons" on a possible equity fundraising.
Debenhams shares leapt as much as 32 percent to 37.75 pence.
"Better-than-expected numbers from Debenhams give management a strong hand, if it decides that it needs a rights issue," Panmure analyst Philip Dorgan said in a research note.
NO QUICK RECOVERY
Next, Britain's second-biggest clothing retailer behind Marks and Spencer, said like-for-like sales at stores unaffected by new openings fell 7 percent in the 21 weeks to December 24.
Some analysts had forecast a fall of up to 8 percent.
Next, which trades from over 460 stores in the UK and Ireland, also said it was comfortable with analysts' current profit forecast range of 415 million to 435 million pounds for the year ending January 31.
Next was one of the few retailers that did not discount heavily in the run up to Christmas, and said the first day of its post-Christmas clearance sale was its busiest ever.
Its shares rose as much as 12.7 percent to 1,230 pence.
Chief Executive Simon Wolfson was also sanguine about the chances of indebted shoppers spending any extra cash.
"I think it will take time for people to rebuild their balance sheets," he told Reuters in an interview.
Home furnishings group Dunelm showed trading is particularly tough for retailers linked to the housing market, reporting a 5.6 percent fall in like-for-like sales for the 26 weeks to December 27.
"The housing market is shot, and a large part of our demand is created by housing," Chief Executive Will Adderley told Reuters, though he added Dunelm was taking market share as shoppers trade down from more expensive rivals like John Lewis.
Private equity-owned fashion chain New Look fared better, reporting a 2.8 percent rise in like-for-like sales for the 14 weeks to January 3, although it forecast "an increasingly difficult market" in 2009.
Food groups have been more resilient to the economic downturn, thanks to their focus on staple products. Mutual retailer The Co-operative Group said its food stores saw a 6 percent rise in like-for-like sales, excluding fuel, for the three weeks to January 3.
(Editing by David Cowell)
© Thomson Reuters 2022 All rights reserved.