Retailers could sink in perfect autumn storm
LONDON | Thu Sep 22, 2011 - Retailers are facing a trinity of challenges this autumn that will scupper some of them before they can reach the safe harbour of the Christmas trading period.
A quarterly rent deadline on September 29 approaches as retailers battle severe macro-economic headwinds that are restricting trading just as they need to spend cash on stock for the key festive shopping season - a perfect storm.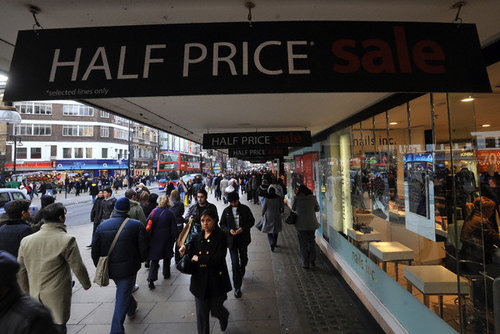 Photo: Corbis
Industry experts say more private and publicly quoted retailers, both large and small, will likely fail in the weeks either side of the September 29 rent day, when the fourth quarter's rent is due to be paid in advance to landlords. This is the critical pinch point.
"The situation has never been more difficult for the high street. Many (retailers) simply can't pay rent, suppliers and their banks," said Nick Moser, head of restructuring and corporate recovery at law firm Taylor Wessing.
"There's no reason to think that you won't have a major high street failure in the next few weeks," he said.
The consumer outlook is bleak. Most retailers do not anticipate any recovery in the trading environment before the second-quarter of next year at the earliest.
With a stock market drop and the European debt crisis creating a grim backdrop, consumers are grappling with rising prices, subdued wages growth, a lack of credit, job insecurity, a stagnant housing market, government austerity measures and fears of eventual interest rate rises -- much of which spilt over into riots in several cities last month.
A survey on Monday indicated Britons are having to eat into their savings and run up debt to finance spending. Another on Wednesday said consumer confidence slipped to a four-month low in August, auguring ill for consumption and suggesting that domestic demand will remain a drag on the fragile economy.
MOST VULNERABLE
Retailers of homewares, large electrical items and fashion clothing are seen as the most vulnerable, particularly if they are burdened with high debt levels and a weak Internet strategy.
"Suppliers will be giving less and less credit because they are going to be more concerned about levels of their own exposure," said Julie Palmer, partner at insolvency experts Begbies Traynor.
Stock market valuations for retailers have been hammered as investors anticipate more trouble ahead. The general retail sector index .FTASX5370 is down 10 percent so far this year.
2011 has already seen a raft of well-known retail names fall over, including wine seller Oddbins, home improvement firm Focus DIY, home furnishings retailer Habitat UK, Moben kitchens owner Homeform, fashion retailer Jane Norman and discount department store chain TJ Hughes.
Last month Andrew Murphy, retail director of John Lewis JLP.UL (BB90_p.L) department stores, told Reuters he expected a "Darwinian shakedown" in the homewares market in the wake of Habitat's demise.
In recent weeks furniture retailer Walmsley's and flooring specialist Floors 2 Go have joined the casualty list.
CHRISTMAS WOE
Even those retailers that make it through Christmas will not be out of the woods.
Another rental payment falls due at the end of December and banks will take a cold hard look at retailers' prospects for survival.
Many may take the view that with cash at bank at its highest point after festive trading their interests could be best served by pulling the plug before the quiet trading months of January, February and March.
A tougher stance from the British taxman could compound the pain for retailers.
With the government focussed on reducing a record budget deficit Her Majesty's Revenue and Customs is taking a harder line on so-called Time to Pay arrangements, the scheme that provides deferrals of tax payments. Businesses looking for repeat arrangements will face more scrutiny.
"I think you'll see a much bigger impact in terms of retail insolvency towards the end of the calendar year," said Lee Manning, reorganization services partner at Deloitte.
(Editing by Sophie Walker)
© Thomson Reuters 2023 All rights reserved.