Retail sales rebound boosts rate hike bets
By Christina Fincher and Fiona Shaikh
LONDON (Reuters) - Retail sales shot up in February at their fastest pace in over two years, indicating consumers are spending freely despite recent interest rate rises and boosting speculation another hike is on its way.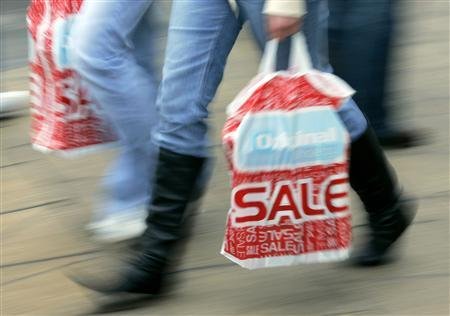 Strong spending on clothes and shoes lifted overall sales volumes 1.4 percent last month, twice the rate forecast by analysts, and the biggest monthly increase since January 2005.
An upward revision to January's sales figures and a separate survey showing manufacturers' order books in their best shape for 12 years provided further evidence that Britain's economy is growing robustly.
Year-on-year retail sales growth in February was 4.9 percent, the fastest pace since November 2004.
"The rebound in retail sales volumes in February suggested that the underlying trend in high street spending is rather stronger than January's sharp fall had suggested," said Vicky Redwood at Capital Economics.
"The way looks clear for the Monetary Policy Committee to hike interest rates once more in response to its lingering concerns about the upside risks to inflation."
Retail sales volumes were initially reported to have fallen 1.8 percent in January, their biggest monthly fall in four years. This was revised on Thursday to show a 1.5 percent decline.
Investors rushed to bet the Bank of England would raise interest rates again, pushing gilts lower and lifting the pound to a six-week high against the dollar.
A MOVE IN MAY?
The central bank has raised rates three times since August in a bid to curb inflation and markets are betting it will hike again to 5.5 percent by the summer. Many analysts are pencilling in a move in May, the month the Bank releases its quarterly inflation report.
An unexpected fall in retail sales for January had raised question marks over policymakers' willingness to tighten policy again. The stronger than expected sales figures for February -- following a surprise rise in inflation for the same month -- put those concerns at rest.
"It doesn't guarantee a rate hike in May but it does remove a hurdle," said Ross Walker at RBS.
Thursday's release showed the rise in retail sales in February was driven primarily by textile, clothing and footwear stores, where sales rose 4.7 percent, their fastest rate in more than four years.
The data coincided with upbeat results from Next , Britain's second largest clothing retailer, which beat forecasts with a 6.5 percent rise in annual profit, sending its shares higher.
Nevertheless, Next Group Finance Director David Keens cautioned that the outlook for the consumer was tough and an improvement was not expected until the second half of the year when the effect of high energy prices would be lessened.
Indeed, official data showed the rebound in sales in February came as retailers cut prices for a second month, suggesting intense competition for customers' money.
"It is a very difficult market," said Keens. "I think consumers are being careful."
(Additional reporting by Rachel Sanderson)
© Thomson Reuters 2022 All rights reserved.