Retail sales plunge as snow deters shoppers
By Christina Fincher and Fiona Shaikh
LONDON (Reuters) - Retail sales plunged in February, posting the lowest annual growth rate in more than a decade, as heavy snowy and economic gloom kept consumers away from the shops, official data showed on Thursday March 26.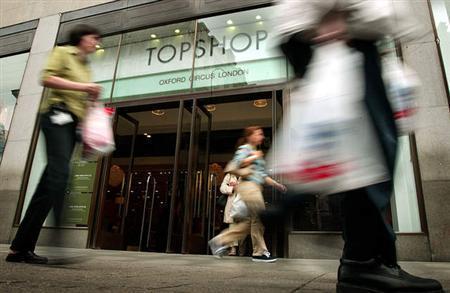 And with unemployment soaring, wage growth falling and credit still scarce, analysts said retailers could face even tougher times ahead.
Sales volumes fell 1.9 percent in February, nearly five times the fall expected by analysts, bringing to an end a run of surprisingly robust figures that had shown sales holding up well over Christmas.
The annual rate of growth fell to 0.4 percent, its weakest since September 1995, the Office for National Statistics said.
"February's fall should be seen as a return to reality," said Nick Kounis, an economist at Fortis Bank. "Sharply higher unemployment, slowing wage growth and continued falls in house prices suggest there will be no early end to consumer retrenchment."
The pound fell half a cent against the dollar on the figures which chimed with a weak retail survey from the Confederation of British Industry on Wednesday as well as gloomy news from retailers themselves.
Fashion and homewares store Next Plc (NXT.L) said profits fell almost 14 percent in the last year and it expects sales and margins to fall further this year. Tiles and flooring store Topps Tiles (TPT.L) reckons sales will plunge 18 percent in the first half of its financial year.
The economy fell into recession for the first time in almost 20 years at the end of 2008 and is expected to suffer its sharpest contraction this year since the Second World War.
WEATHER A FACTOR
The fall in sales in February was broad-based and the statistics office said unusually snowy weather had been a major factor.
The country suffered its most widespread snowfall last month since 1991, bringing transport networks to a standstill and forcing several out-of-town shopping centres to close.
"The figures are weaker than the market was expecting but it is not a huge shock given the Arctic conditions in February," said Philip Shaw, an economist at Investec.
February's fall may have been amplified by cost-conscious shoppers front-loading purchases to make the most of the Christmas sales.
February's fall in spending coincided with a small pick-up in prices as seasonal discounts came to an end. Prices last month rose 0.3 percent on the year after two months of substantial falls.
Consumers have plenty of reasons to watch their pennies. Unemployment is soaring, house prices are plummeting, and average earnings actually fell at the start of this year for the first time on record.
Although the Bank of England has cut interest rates to a record low of 0.5 percent, credit is still hard to come by and the threat of redundancy is encouraging people to save any spare cash they have.
"Going forward, I expect consumer spending to stay weak through the year," said Amit Kara, an economist at UBS. "Food and clothing will be fairly resilient but the rest will decline."
(Editing by Mike Peacock and Andy Bruce)
© Thomson Reuters 2023 All rights reserved.