Retail sales drop adds to weak start to Q3
July 28 - Retail sales fell at their fastest pace in a year in July and stores expect a further deterioration next month as hard-hit consumers clamp down on spending, adding to concerns the economy is struggling to grow.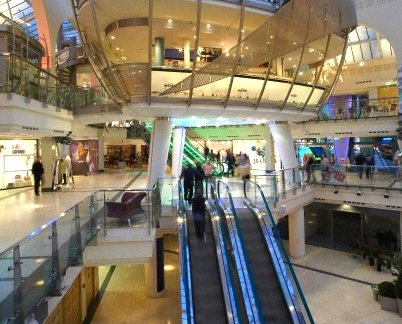 The Triangle Shopping Centre, designed by Benoy, in Manchester. - photo: corbis
The economy grew by a meagre 0.2 percent between April and June after stagnating in the previous six months and several Bank of England policymakers have flagged the risk of a renewed recession.
The Confederation of British Industry (CBI) distributive trades survey's reported sales balance fell to -5 in July from -2 in June, the lowest reading since June 2010.
The reading confounded hopes that an early start to summer discounting would drive sales higher. Analysts had expected an improvement in the balance to 0.
The expected sales balance for August fell to -12 from +2 in July, also the lowest in a year.
"Given the importance of consumer spending, this immediately fuels concerns over growth prospects in the third quarter," said IHS Global Insight economist Howard Archer.
"Indeed, following on from the markedly weaker CBI industrial trends survey for July, the economy seems to have started off the third quarter on the back foot."
The CBI's manufacturing survey showed on Wednesday that orders fell in July and firms were less optimistic.
The weak economy is increasing the pressure on the government to boost growth. But the finance minister's leeway is limited under a plan to slash the budget deficit with tax hikes and unprecedented spending cuts. Some ministers have suggested the Bank of England should engage in a fresh round of monetary stimulus should the economy stay weak.
Bank Monetary Policy Committee member David Miles said on Wednesday that there was a risk the country could tip back into recession, following similar comments by fellow policymaker Martin Weale.
There was no explicit mention of the possibility of more quantitative easing in minutes of this month's policy discussion at the bank, though they stressed it could change monetary policy in either direction.
Financial markets expect the BoE to hold interest rates at record lows well into next year and debate about fresh quantitative easing may intensify if the economy falters.
CONSUMER GLOOM
Retailers are suffering from consumers' reluctance to spend as rising prices, higher taxes and slow wage increases hit their budgets. The European Union's consumer sentiment survey showed that Briton's mood darkened further.
A raft of major retailers, including Marks & Spencer, WH Smith and Halfords, have all cautioned that the trading environment was unlikely to improve any time soon, while experts reckon a string of retail failures seen this summer could be the tip of the iceberg.
"The fact is retailers face challenging times. Most consumers are under a lot of pressure and there's no reason for that to improve," said Arden Partners retail analyst Nick Bubb.
A survey by the British Retail Consortium showed that Retailers were slashing jobs and sentiment among businesses weakened further.
"Rising prices, especially for fuel, continue to impact consumer confidence and make life tough on the high street," said Judith McKenna, chair of the CBI's Distributive Trades survey panel and chief operating officer of supermarket chain Asda.
"There's been a fall in real disposable income since the beginning of the year, with shoppers either cutting back or trading down to make their declining spending power go further."
Grocery stores were particularly hard hit, the survey showed, reporting a negative sales balance of -16 -- the lowest since December 2008. Footwear and leather stores recorded a sales balance of -84, the weakest since March 2009.
(Reporting by Christina Fincher and Sven Egenter; editing by Patrick Graham)
© Thomson Reuters 2023 All rights reserved.