Retail holiday sales improve after dismal 2008
By Phil Wahba and Jessica Wohl
MONTREAL/CHICAGO (Reuters) - U.S. retailers performed better during the holiday shopping season this year than in historically dismal 2008, in line with lowered expectations, according to data released on Monday 28 December.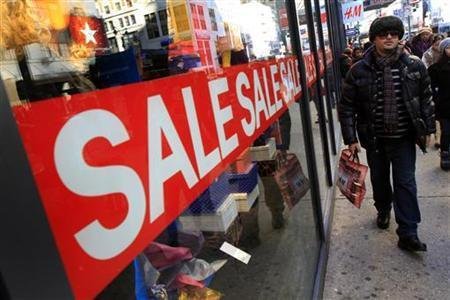 Activity tracked by SpendingPulse, a unit of MasterCard Advisors, showed retail sales rose 3.6 percent in the period from November 1 through Christmas Eve on December 24.
Factoring out an extra shopping day this year between the November 26 Thanksgiving holiday and December 24, that increase was closer to 1 percent, SpendingPulse said.
SpendingPulse figures reflect activity in the MasterCard Inc payment networks and estimates for other payments like cash and checks. They exclude gasoline and auto sales.
This year, fewer consumers had credit cards after issuers tightened lending terms, while many others said they preferred to pay with harder-to-track cash in order to stay on budget.
In 2008, spending fell 2.3 percent as tracked by SpendingPulse and 2.8 percent as tracked by the National Retail Federation, as the financial crisis led consumers to cut back.
"Last year the economy and consumer spending were in free fall. This year we're talking about an environment that has stabilized. That has seen a leveling off," said Kamalesh Rao, director of economic research at Spending Pulse.
Rao cautioned that a consumer return was tentative and far below 2007 levels. Holiday sales can account for 25 percent to 40 percent of annual sales for many retailers.
Looking at the holiday season as a whole, industry experts said retail sales neither added an optimism-inducing upside nor a deeply worrying downside to their forecasts.
"Holiday 2009 can be described in one word, 'Adequate,'" NPD Group chief retail analyst Marshal Cohen said in a note.
The Standard & Poor's Retail Index was up 0.3 percent by the end of trade on Monday. Top retail gainers included American Eagle Outfitters, up 2.9 percent.
NRF STICKS TO FORECAST
The National Retail Federation continues to expect a 1 percent drop in sales for November and December, while other forecasts predict a rise of up to 1 percent.
The NRF plans to issue its own holiday season tally, based on government data, on January 14. While it is not moving away from its forecast, "we're encouraged by preliminary survey results," spokesman Scott Krugman said on Monday 28 December.
Among stocks cited as holiday season winners this year, Gap Inc rose 1.4 percent. Wal-Mart Stores Inc, which offered early and deep discounts, rose 0.7 percent. Amazon.com Inc was helped by higher online shopping overall and its Kindle e-reader, and its shares rose 0.6 percent.
Wedbush, which tracked stores in four markets, said traffic at U.S. malls increased over the past weekend, with shoppers looking for last-minute items on December 24 and traffic up "significantly" on December 26 for post-Christmas sales.
Gap's namesake chain was among the more promotional apparel retailers, offering an additional 40 percent off for clearance items on December 26, Wedbush said.
About 60 percent of the space at Gap stores was made up of sale merchandise, while that level rose to about 70 percent at American Eagle and 80 percent at Children's Place and Gymboree, Wedbush said.
While visiting malls on New York's Long Island on Saturday 26 December, Wall Street Strategies Inc analyst Brian Sozzi saw customers buy more items than they were returning.
"They were actually buying a mix of full-price and some of the discounted goods. So I think that's a very positive sign as we go into January," he said.
Coupons and gift cards handed out over the weekend to be used in January could also drive spending.
But it will be weeks before investors find out what the final push meant to retailers' bottom lines. Several chains plan to report their December sales results on January 7. Full results will come after many retailers wrap up their holiday quarters on January 31.
ONLINE SAW BIGGEST JUMP
The increase tracked by SpendingPulse was aided by a 15.5 percent surge in online purchases as consumers became more comfortable shopping online and shoppers stranded by snowstorms on the East Coast and in the Midwest bought from home. Online retail sales account for about 5 percent of overall sales.
Sales at specialty electronics chains such as Best Buy Co Inc rose 5.9 percent after falling sharply in 2008.
Luxury sales edged up 0.8 percent. Jewelry sales shot up 5.6 percent and gathered steam just before Christmas.
Men's apparel sales rose 3.9 percent, while women's clothing sales edged down 0.3 percent. Sales at specialty apparel retailers such as Gap and Abercrombie & Fitch Co edged down 0.4 percent, but showed signs of life after Black Friday this year, rising 2.3 percent between the last Friday in November and December 24.
(Editing by Michele Gershberg and Tim Dobbyn)
© Thomson Reuters 2023 All rights reserved.