Retail growth seen screeching to a halt
By Sarah Coffey - Analysis
NEW YORK (Reuters) - Retailers may have to scrap their growth plans and shrink in 2009 to survive as they face the grimmest economic environment since the early 1990s.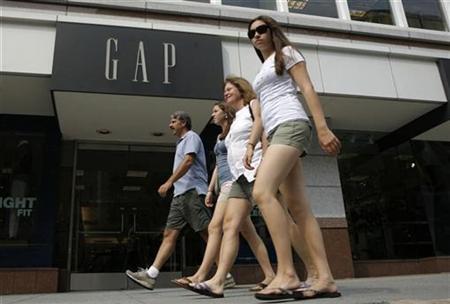 Many U.S. retail chains, including Gap Inc and Circuit City , have already scaled back expansion plans as a troubled U.S. housing market and higher food and gas prices put a chill on spending.
Now a world financial crisis stemming from last year's U.S. mortgage meltdown, coupled with extremely tight credit markets and gloomy sales forecasts, will force retailers to halt expansion and close up to 10 percent of bottom locations following the holiday season, said Marshal Cohen, chief industry analyst for the retail research firm NPD Group Inc.
"It is now going to be every store for themselves," said Cohen. "If you are not generating your own profitability, forget it. Either you make it or you don't."
While in the past retailers might have kept poorly performing stores open if an overall region were profitable, that may no longer be an option.
And with retailers keeping inventory tight to reduce clearance levels, a lack of product availability and freshness could hamper holiday sales even more than predicted, said Cohen, leading retailers like Gap and Abercrombie & Fitch Co vulnerable to closing stores to protect profit margins.
"The focus now will be margin, margin, margin. You can have better margin on less stores," said Cohen, who predicts retailers will wait until the beginning of the 2009 fiscal year to announce holds on growth plans.
SLUGGISH
U.S. holiday sales are forecast to be sluggish, as nearly six times as many shoppers say they'll cut back on gift-buying as those who plan to spend more, according to a Reuters/Zogby poll.
Research firm TNS Retail Forward expects a mere 1.5 percent growth for holiday retail sales, the worst in 17 years.
Some retailers have already modified previous store-opening plans. Electronics retailer Circuit City announced this week it is suspending store openings beginning with its 2010 fiscal year to focus on turning around its troubled operations.
Gap, which owns Banana Republic and Old Navy, said in August it would open 15 fewer stores than expected this year, mostly in its Banana Republic chain.
And in June J.C. Penney reduced the number of stores it planned to open or relocate to 20 in 2009, down from 50 per year through 2011. Penney has no plans to further modify its growth plan, said spokesman Quinton Crenshaw.
Other retailers say they are forging ahead.
Kohl's opened 46 new stores this week, part of 75 planned store openings for 2008. In 2009, the midpriced department store chain expects to open around 50 stores and remodel 60 locations.
"The company is well-positioned to continue its expansion in new and existing markets," said Kohl's Chief Executive Kevin Mansell, noting the company has identified 1,400 potential Kohl's sites.
"The existing reduction in inventory per store of 15 percent that we have already achieved puts us in an excellent position" to introduce new merchandise throughout the fall season, said Mansell.
Teen apparel retailer Abercrombie & Fitch plans to increase gross square footage by about 9 to 10 percent in fiscal 2008 and to open 99 stores in North America, as well as three more stores in Britain.
EMPTY STOREFRONTS
A number of retailers are holding off finalizing contracts with real estate developers to secure new store space.
"I have heard from dozens of retailers that they are just pushing off their '09 openings to 2010, so they're still talking deals -- they're just talking about it at a much slower pace," said Hilco Real Estate analyst Nina Kampler, who covers retailers.
"Retailers have hit the pause button" on expansion plans, said Kampler. "They're being more and more methodical about it."
Retailers that operate stores under different concepts, such as Gap and Abercrombie & Fitch, with its Hollister and Abercrombie stores, will be especially vulnerable to contraction, Kampler said.
Smaller specialty stores could take their place, as landlords look for "anybody who is a warm operating body who could meet its rent roll," Kampler said.
The holding pattern is expected to continue well into next year, as tight credit markets make it more difficult for retailers to open new stores, said Deloitte's Chief Economist Carl Steidtmann.
"At some point in time we will have a recovery," Steidtmann said. Until then, "a lot of retailers are reexamining their expansion plans and looking for ways to cut back," largely to preserve cash.
(Editing by Brian Moss)
© Thomson Reuters 2021 All rights reserved.