Retail, consumer boosting US TV ad spending in 2012
On top of a jump in political advertising ahead of the November U.S. elections and Olympic advertising before the Summer Games, television stations and networks are also getting a boost from increased ad spending by top retailers and consumer brands.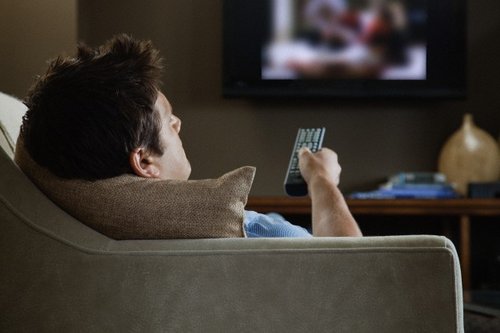 Man Watching TV / Photo: Corbis
Overall television ad spending is expected to rise 6.8 percent in the United States in 2012, according to forecasting company Magnaglobal. Much of that will come from brands looking to make a national splash and retailers reaching out for new consumers.
High-end cosmetics maker Estée Lauder Cos Inc, with a portfolio that includes Clinique and Mac, wants to win over more middle-income shoppers and is spending 65 percent more on TV ads.
PepsiCo Inc said on Thursday it would ramp up its ad spending, including television, in the next few years as it tries to win back market share from Coca Cola Co.
And department store chain J.C. Penney Co Inc, in the midst of a major reinvention of everything from its pricing to how its stores look, has tapped a top star, talk show host Ellen De Generes, to be the centerpiece of an $80 million per month multimedia campaign.
Executives say that, even in the age of social media, TV remains the single most effective means of quickly reaching tens of millions of people.
"The biggest way to attract mass is still television," Estée Lauder Chief Executive Fabrizio Freda told reporters at a briefing in New York last week.
"People that today buy a lot of cosmetics in mass around the world don't always read Vogue."
Retailers alone accounted for about 11 percent of all ad spending in the United States in the first nine months of 2011, behind automakers and local services, according to Kantar Media. Personal care products such as perfume and skin care accounted for another 8 percent. Procter & Gamble Co alone spent $1.2 billion on TV ads during that period.
The rise in advertising spending will give a welcome boost to broadcasters. Bob Iger, the chief of Walt Disney Co, which operates ABC and ESPN, told investors last week the "advertising marketplace is healthy." NBC parent Comcast Corp and CBS Corp have echoed those sentiments.
The appeal of TV's broad reach is irresistible.
"TV is the king of media categories when it comes to branding," said Vincent Letang, global head of forecasts for Magnaglobal, a division of IPG Mediabrands. "It is indispensable."
According to a KPMG and National Retail Federation report from January, television was by far the single biggest component in ad spending for most of the 128 retailers polled for the report.
Online spending is the fastest growing channel for advertising, but it is a limited tool when it comes to getting tens of millions of people to change how they view an old, established chain such as Penney.
"Social media is better for deals and promotions," said Columbia University professor Michelle Greenwald, who earlier in her career was an executive at PepsiCo and Disney. TV is the best bet for a brand that is in a hurry to remake itself, she added.
TV stations and owners will also benefit from what forecasters expect to be a 30 percent jump in political advertising during this U.S. election year compared with the 2008 campaign, with much of it on television.
The appeal of television extends even to e-commerce. EBay Inc launched its first TV ads in years last fall.
And Barnes & Noble Inc, fighting hard to keep up with Amazon.com Inc in the digital book wars, is advertising its Nook devices heavily in a national TV campaign, despite the hit to its earnings.
A number of retailers have found it risky to cut back on TV advertising.
Signet Jewelers Ltd has relied heavily on television to help its Kay Jewelers chain win market share in recent years from jeweler Zale Corp. But in the last two holiday seasons, Zale has ramped its TV advertising back up and sales have improved. Both jewelers have said they will advertise even more this year. (Reporting By Phil Wahba in New York; editing by Andre Grenon)
© Thomson Reuters 2023 All rights reserved.