Report and outlook from Interparfums group
A difficult global economic climate, unfavourable exchange rates, a change of ownership in Spain… Interparfums has not been disturbed by tempestuous circumstances in 2008. It had a turnover, by current exchange rates €264.9 million, an increase of 9%. With fixed exchange rates this total rises to €276.4 million, +14%.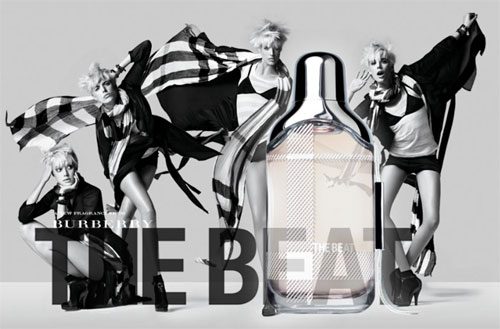 Publicity campaign 'The Beat' Burberry (Interparfums group)
Philippe Bénacin stated that the year had been "normal until October 2008, when retailers were in effect clearing their stock. There was no immediate impact on sales or on the accounts. Last January we announced a pessimistic prediction, but February and March were very reasonable."
If it keeps the lines in its catalogue (Burberry Classic and Weekend), Burberry will remain at the top of Interparfums brands with a turnover of €169 million (+10.5% current exchange, +16.3% fixed exchange). These positive results can be explained by the successful implantation of a campaign "more modern and trendy than before" with Agyness Deyn becoming the face of The Beat, and a strong relationship with Burberry Brit.
Alongside, Lanvin, picked up by the group in July 2004, has seen a growth of 17% and income of €39 million. Eclat d'Arpège has performed well in the second semester, Rumer 2 Rose, launched in the spring, has made up for the difficulties of its establishment and Jeanne Lanvin justified the success of its brand in the autumn.
Sales by Van Cleef & Arpels have exploded posting +77% at €21 million. No surprise that, in addition to the First Premier Boutique launched in Spring 2008, the brand has seen further development with the launch of Féerie which has "gone very well", continued Philippe Bénacin. "For Féerie we've raised the bar even higher, notably as regards its image and marketing".
As for Paul Smith, this year saw a loss of 25% reducing turnover by €13.4 million. "The big bill presented by working with the pound (Paul Smith does 60% of its business in the UK) means that a drop in sales caused a hefty reduction in profit margins and subsequently affected turnover," noted the director.
S. T. Dupont announced a growth of 3% (€11.5 million of turnover). Its sales are predominantly based in Russia, but the Passenger line but can boast a good reception following a launch in the Middle East.
Roxy and Quiksilver made €7.4 million, 12% higher than 2008. Quite good results have masked the poor performance of Roxy and Roxy Love. "The ladies brand does not have the legitimacy of Quiksilver, it's not the leader in its field," noted Philippe Bénacin.
Nickel dived with a decrease of 20% and €2.7 million from turnover. But the group remains confident that the brand will recover in its key components which "will be confronted by competition less and less: there will be fewer businesses in the male beauty market in the future."
Launching in 2009, InterParfums announced :
-The Beat for Men Spring 2009 at Burberry
-Lanvin l'Homme Sport (Spring 2009)
-Quiksilver (Spring 2009)
-Féérie Eau de Toilette at Van Cleef & Arpels (Spring 2009)
-Paul Smith Men (Summer 2009)
-Collection Extraordinaire at Van Cleef & Arpels (Autumn 2009)
Planned for 2010 :
-Burberry Sport with a line of perfume
-A first line of make-up from Burberry
-Bague at Van Cleef & Arpels, a new line of perfume for women.
-A new line of perfume by Paul Smith, by Lanvin and at Quiksilver (each to be confirmed)
Objectives for the year:
+ 2 % for Burberry, + 3 % at Lanvin, + 5 % at Van Clef & Arpels, + 4 % at Paul Smith and at S.T. Dupont, + 22 % for Quiksilver and Roxy, + 11 % for Nickel. Interparfums have not mentioned Christian Lacroix which lost 67% of its value in 2008.
By Jonathan Fulwell (source: Julie Mangaud)
Copyright © 2023 FashionNetwork.com All rights reserved.