Red carpet ablaze with heat and color at Emmys
By Sue Zeidler
LOS ANGELES (Reuters) - The red carpet sizzled with heat and color on Sunday 20 September as many of television's biggest stars arrived at the 61st Primetime Emmy Awards in bright reds, blues, purple and yellow gowns.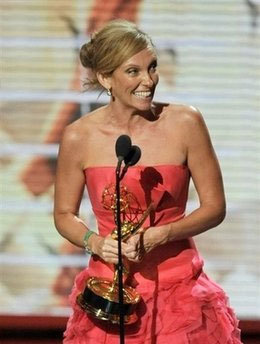 Toni Collette accepting her Emmy - Photo: AFP/Getty Images/Kevin Winter
Australian Toni Collette, who nabbed an Emmy for a best actress in a comedy for her role in "United States of Tara," wore a hot pink strapless ruffled gown.
Collette said she was "happy to feel a breeze" as she arrived for the Emmys in the blazing heat.
Many television actresses wore red, including Debra Messing, in a Michael Kors gown, Blake Lively in a plunging red Versace and "House" star Jennifer Morrison.
"There was a lot of strong color. Color makes people feel better, especially on a blazingly hot day," said Hal Rubenstein, fashion director for InStyle Magazine, who also noted many nominees and guests also wore their hair swept up in updos to battle the heat.
A very pregnant Heidi Klum, sporting a black Marchesa gown, was among the stars who wore their hair up, as were Christina Applegate, nominated for best actress in a comedy for "Samantha Who?," and Olivia Wilde, from "House," who wore an embroidered tulle gown.
Even some men chose to punctuate their suits with a dash of color. Actor Alec Baldwin, nominated for best actor in a comedy for his performance in "30 Rock," sported a lavender tie, while actor Terry O'Quinn, of "Lost" wore a yellow tie to match wife Lori O'Quinn's yellow gown.
"Black and white is pretty boring," said O'Quinn. "I think we're evolving sartorially," he said.
Cool-looking metallic dresses were also aplenty, with stars, like Emmy-winning Kristin Chenoweth, who nabbed the trophy for her supporting actress role in "Pushing Daisies," shimmering in a sequined sheath.
Rubenstein described the evening's tone as smart and not overtly glamorous.
"There was a lot of smart, sleek, colorful looks, but not over-indulgent. Fashion isn't in that kind of extravagant place right now," Rubenstein said.
Lawrence Zarian, TV Guide Network's red carpet fashion expert, said many actresses had sought strapless gowns or off-the-shoulder dresses, adorned with sparkling jewels.
"We really want to celebrate the shoulder this year and there are lots of embellishments. There are many big jewels and jewel-encrusted dresses," he said.
(Editing by Alex Dobuzinskis)
© Thomson Reuters 2023 All rights reserved.