Price Trumps Brand Loyalty
As retail businesses gear up for the holidays and for what they hope will be a profitable fourth quarter, a survey conducted by SHOP.COM indicates that businesses will have to do more than just woo shoppers this year with great deals -- they will have to wow them.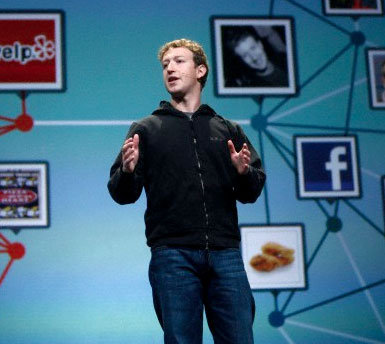 Mark Zuckerberg explains the power of his social media site Facebook at a conference April, 2010. Photo : Corbis
An overwhelming seventy-six percent of survey respondents claimed that their customers are still price-sensitive and are shopping for deals, while twenty-four percent of respondents say their shoppers are brand-loyal, regardless of price. The survey was distributed to merchants across the SHOP.COM marketplace, representing every major retail category from home and housewares and clothes to shoes and electronics.
"We are in a unique position to be in contact with so many top retailers spanning such a wide selection of categories -- giving us a very complete picture of shoppers' spending habits," said Mondy Beller, Senior Vice President of Marketing for SHOP.COM. "It's not surprising to us that many of our merchants, regardless of their offerings, are saying that their customers are still cautious when it comes to their pocketbooks. That is why we continue to stay laser-focused on our promise to help shoppers 'Shop Smart, Save Big' as demonstrated in our tagline with a variety of helpful tools and features."
Success Stories
When asked what strategies retailers are finding success with when it came to online advertising, Search Engine Marketing (31%) and email campaigns (31%) tied at the top of the list. Email performance remains at average levels for most retailers (47%) while many are actually seeing an improvement over last year (36%), and only 10% are seeing a decline in performance compared to 2009.
A majority of retailers surveyed (49%) reported that they are seeing an increase in their affiliate marketing programs compared to 2009, and about forty-four percent of merchants surveyed believe that Search Engine Optimization (SEO) strategies will bring in about 5-20% of their sales, while only 24% believe that they'll receive 20-50% of sales from SEO.
Christmas still reigns supreme as the most successful seasonal time for the majority of retailers (80%), while twenty-five percent find that the Back-to-School season is successful for them, followed by Mother's Day (21%), Thanksgiving (20%), and Father's Day/Graduations (15%).
Shopping is Social
Another standout trend is the proclivity for retailers to use social media. While it's no surprise that retailers rely on sites like Facebook pages and Twitter to advertise products and sales (59%), the survey revealed that they also use social media to communicate news (64%) and even address customer service needs (34%), while giving customers a forum for discussion (43%). Facebook tops the list of most retailers' primary social media tools (82%) while Twitter (67%) and blogging (54%) follow suit. Only nine percent of the retailers claim not to use social media at all.
With respect to mobile marketing, a large percentage of retailers (52%), while they may not engage in it now, have plans to. Thirteen percent currently use mobile marketing as part of their strategy and thirty-five percent do not and do not plan to in the future.
Copyright © 2023 FashionNetwork.com All rights reserved.