Polo profit soars past Street view; shares up
NEW YORK (Reuters) - Polo Ralph Lauren Corp (RL.N) reported a bigger-than-expected quarterly profit on Wednesday 5 August, helped by cost cuts and gains in market share, and the clothing maker's shares rose as much as 6.3 percent to a 10-month high.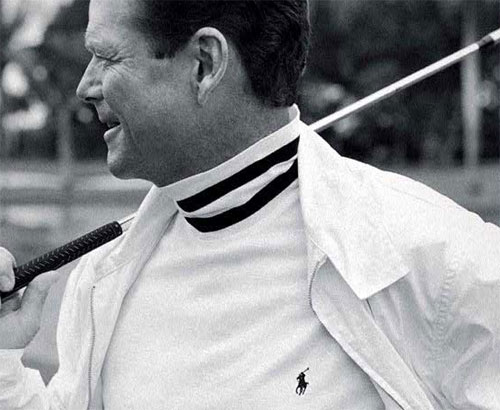 Tom Watson in Polo Ralph Lauren - Photo: www.ralphlauren.co.uk
Apparel retailers and manufacturers have been among the hardest hit sectors in the recession as consumers trim spending for anything other than essentials.
Despite weak demand at its stores and from its retail customers, the owner of the Polo, Chaps and Club Monaco brands has cut costs, lowered inventories and gained share in some markets.
The company said gross profit margin rose 1.4 percentage points to 58.7 percent due to improvements in its wholesale and retail segments, particularly in Europe and Japan, as well as supply chain cost cuts.
Net income was $76.8 million, or 76 cents per share, in the first quarter ended June 27. Analysts on average were expecting 49 cents per share, according to Reuters Estimates.
Polo earned $95.2 million, or 93 cents per share, a year earlier.
Operating expenses declined 2 percent.
Net revenue fell 8 percent to $1.02 billion. Wholesale sales fell 10 percent, and retail sales fell 6 percent.
Sales at retail stores open at least a year, or same-store sales, fell 9 percent and were down 25 percent at Ralph Lauren stores, 4 percent at factory stores and 15 percent at Club Monaco stores.
Sales through the company's website rose 14 percent.
Six weeks into the second quarter, Chief Financial Officer Tracey Travis said sales trends remained consistent with those in the first quarter and that Polo and its retail customers were continuing to plan shipments carefully.
Polo said it expected net revenue for its full fiscal year to fall at a high-single-digit percentage rate. For the current quarter, it expects both wholesale revenue and same-store sales to fall at a low-double-digit rate.
At the end of the first quarter, Polo operated 325 stores, including 86 Ralph Lauren stores, 64 Club Monaco stores, 164 Polo factory stores and 11 Rugby stores. Its international licensing partners operated 96 Ralph Lauren stores and 65 Club Monaco stores.
Polo shares were up $2.88, or 4.5 percent, at $66.67 on the New York Stock Exchange, after rising as high as $67.83 earlier in the session.
(Reporting by Martinne Geller; Editing by Lisa Von Ahn and John Wallace)
© Thomson Reuters 2022 All rights reserved.