Platinum and palladium flagged as stars of 2011
Dec 17 - Gold is set to build on this year's hefty gains in 2011 as uncertainty over the stability of the global financial system boosts its safe-haven allure, but other precious metals may offer investors a higher return.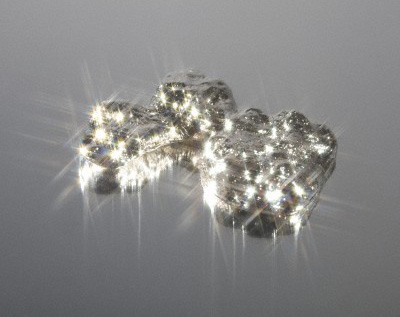 Close-up of platinum
Autocatalyst metals platinum and palladium, which have both recorded a stellar year in 2010, could be set to outstrip gains in gold if the economic recovery gains traction, analysts say.
But with concern lingering over the health of the euro zone, interest rates at record lows in many jurisdictions, and many major currencies still under pressure, gold, the bellwether of the precious metals complex, will continue to shine.
Gold has weakened its link to other commodities this year, managing to rise strongly in the first half while oil and copper slipped. This reflects its increasing value as a currency play.
"I've never been a long term advocate of gold as an alternative to currencies, but it has now adopted that role," said JPMorgan Asset Management fund manager Ian Henderson.
"So long as there is bad news about the euro (and) European sovereign debt, and so long as we are seeing the potential for the euro to break up, that is probably the driver of the gold price," he added.
Henderson said he would be "quite surprised" not to see gold trading above $1,600 an ounce next year.
Its link to the dollar has also weakened. The dollar is expected to firm against the euro next year, but as this is likely to be a result of gold-friendly sovereign debt fears, it may not translate into lower gold prices.
Any further drop in jewellery demand, which has been hit hard by rising prices, or rise in scrap sales could potentially weigh on the market. But jewellery buyers in key consuming countries like India have shown sign of becoming acclimatised to higher prices, while scrap flows remain relatively light.
Gold will also be supported by historically low interest rates, especially in the United States. Fifteen of 16 dealers polled by Reuters this month expected the Fed o leave interest rates at the zero to 0.25 percent range through 2011.
Low interest rates cut the opportunity cost of holding non interest-bearing precious metals, and have been a major support to prices of all four since the start of the financial crisis.
Last year's winner in price terms, palladium, is set to extend its rally still further in 2011 as demand from emerging markets like China continues to grow, but platinum, which has lagged its sister metal's gains, is also in the spotlight.
"We forecast that once again palladium will remain the best performing precious metal, but we also expect platinum will play catch-up from its lacklustre 2010 showing," said UBS analyst Edel Tully in an end-of-year report.
Palladium is on track for a whopping 82 percent price rise this year, outstripping platinum's 16 percent rise and gold's 25 percent climb. Only silver, up 72 percent so far this year, has come close to matching its performance.
Palladium's rise is even more impressive given that it also more than doubled in price in 2009. The metal has been supported in a rebound in demand from the palladium-hungry Chinese car market, and by talk of dwindling Russian stockpile sales.
Chinese car sales, which surpassed those of the United States to make China the world's biggest car market last year, are expected to keep rising in 2011, boosting palladium demand.
UBS expects the metal to move into a deficit of some 231,000 ounces next year from a surplus of 18,000 ounces in 2010, and to widen that deficit to 563,000 ounces in 2012.
SUPPLY CONCERNS
Platinum has so far lacked such strong fundamental drivers. However, with concern increasingly mounting over the outlook for output from South Africa, which supplies four out of five ounces of the world's platinum, this could change.
The stronger rand is a problem for South African miners, as it raises their costs versus their revenue, which is usually in U.S. dollars. The rand is seen maintaining its gains in 2011, despite moves to address its strength.
"I wouldn't be surprised to see $2,500 platinum next year," said Threadneedle Asset Management fund manager David Donora. "Its production is challenged and is getting more expensive."
But there is a note of caution on silver, another star performer this year. The metal has benefited both from its role as a cheaper proxy for gold and as an industrial metal in its own right, but it may be vulnerable to a correction.
Investment in silver has been reflected in substantial gains in exchange-traded fund holdings this year -- the largest silver-backed ETF, New York's iShares Silver Trust, has seen inflows of nearly 1,400 tonnes so far this year, a 15 percent rise in total holdings.
But its underlying fundamentals are less supportive than those of the platinum group metals, and its investor base may be more fickle that that of gold, analysts said.
"Silver is the only precious metal where there is a steady increase in mine supply, particularly from Latin America," said HSBC analyst James Steel.
"There are several giant mines that have finally gotten going, and they will contribute to supply. That isn't the same case with the PGMs or with gold."
By Jan Harvey
(Editing by Sue Thomas)
© Thomson Reuters 2022 All rights reserved.