Peruvian fashion looking for more visibility
The 'Made in Peru' label is found on the products of many high-end lifestyle brands such as Superdry, Ralph Lauren and Under Armour, produced at "full package" companies (vertically integrated corporations) such as Topy Top, a family owned empire located in the outskirts of Lima. "Peruvian cotton is recognised as prime quality, although the majority of the cotton used may be American, which may often make up 60% of the blend", explains Topy Top's general director, Estevan Daneliuc Peslar. "Peru is not competitive with cheap garments, but rather with high-end consumer-focused brands such as Hugo Boss".

How is Peru trying to promote its national designers at an international level ?

Today, Peruvian apparel exports are mainly shipped to the Americas, with the United States bringing home 56.5% — an FTA was signed between the two nations in 2006 — and Venezuela, its second largest export market, around 14.5% (figures from 2010, see chart below). These exports represent mainly full package garment orders from foreign companies, including mainly cotton t-shirts and men's and women's polo shirts. According to PromPeru's Market Intelligence Unit, "the United States and Venezuela are the main market destinations for t-shirts and ladies polo shirts, while Germany is the second destination for men's shirts" (figures from 2010).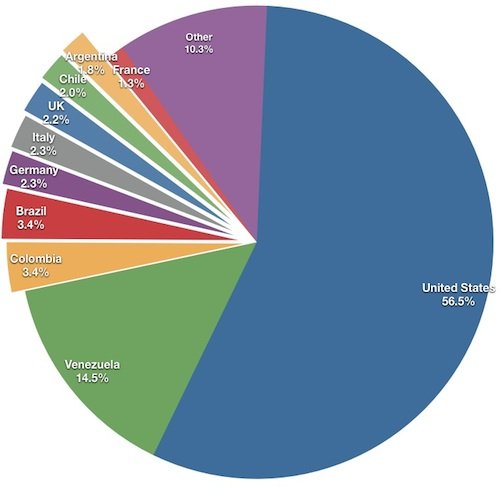 PERUVIAN APPAREL SECTOR : Main export markets % - 2010 / Source : PromPerú Market Intelligence Unit
Peru is attempting to consolidate its competitive advantage in Peruvian fashion as well as its textile industry. These efforts are reflected by the launch of the first Lima Fashion Week which took place at the same time and exhibition centre alongside the fashion trade fair PerúModa (April 28-30), and home and gift fair Perú Gift Show, both of which are government subsidised by PromPerú, a government branch in charge of promoting exterior commerce.
The past edition of PerúModa, registered a total of 8,390 visitors, of which 1,400 came from 40 different countries, according to PromPerú organisers. A 7% decrease from last year's edition which registered 9,000 visitors.
Peru's first ever Lima Fashion Week (LIF Week), an event aimed at strengthening the country's ready-to-wear fashion industry and local designers showcased Peru's top designers. Sumy Kujon, Elfer Castro, or Harumi Momota were some among the twelve designers who demonstrated prowess in cuts and coherence in their collections, whilst making use of Peru's prized fibres such as Alpaca or fine pima cotton. Custo Barcelona, international guest of honour at the LIF Week, raised standards for local designers, but the general feeling was that improvement could be made, especially in originality and creativity in the collections presented by local designers.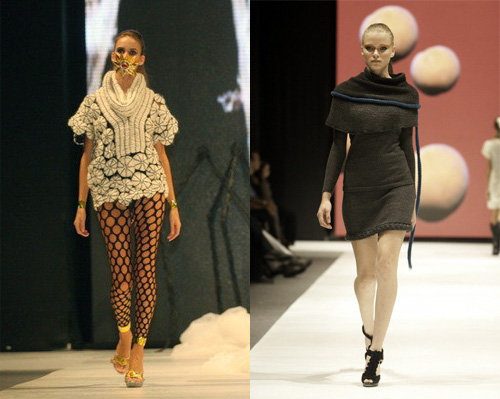 Elfer Castro (left), Sumy Kujon (right) - Foto: PromPeru
What came as a shock was the organisers' refusal to allow Meche Correa to participate in the LIF Week, one of Peru's most prominent designers, whose expertise consists of contrasting ethnicity and modernity in her designs. She confirmed to FashionMag.com that she hoped to be accepted in next year's edition, but did not disclose the reasons behind the rejection. In 2010 she presented her collection at Intermoda, Mexico's leading trade fair (Guadalajara), a catwalk followed by a standing ovation.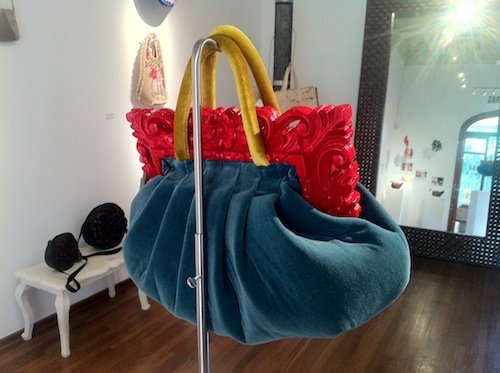 Alpaca purse by Meche Correa
Furthermore, aspiring young fashion designers have been promoted by PromPeru's Concurso de Jóvenes Creadores (Young fashion designer's Awards) for the 7th edition. This initiative includes recognising local talent and rewarding the winners by offering an internship at Versace's headquarters with paid-for lodging, or a free stand at Paris' trade fair Prêt-A-Porter Paris. On the last edition, Edith Isabel Huaman Mantari was awarded best young designer in the Alpaca Category, while Pauline Filipetti won the Cotton Category.
Cotton weaving has always been at the heart of the Inca culture. When Spaniard conquistadores in the 16th century conquered the Inca teritorry, they came across their beautiful garments made of cotton, alpaca and even exotic bird's feathers incorporated in garments used in ceremonial rituals. The Incas also used cotton to weave fishing nets. For them, fashion was spiritual and symbolic. In today's age, Peruvian designers must find inspiration in their own culture and rich heritage. Too many tend to let themselves be influenced by Roberto Cavalli in Italy or Chanel in France, which was sometimes the case at Lima's Fashion Week. There is no reason why imagination should be limited to imitating European or American fashion trends, when there are fountains of ideas springing from Peru's own past and opportunities are made possible by the government's aid.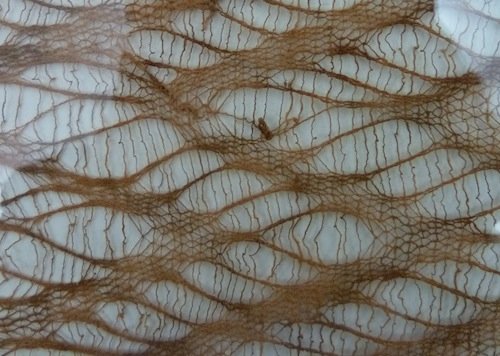 An intricate weaving pattern elaborated by the Incas / Amano Museum, Lima
Christian Layolle
Copyright © 2023 FashionNetwork.com All rights reserved.