Paris haute couture learns to make do and mend
By Sophie Hardach
PARIS (Reuters) - Swathes of silk and clouds of tulle charmed pop stars and the super-rich at Paris haute couture shows this week, while off the catwalk the talk was of ways to create luxury with meager means.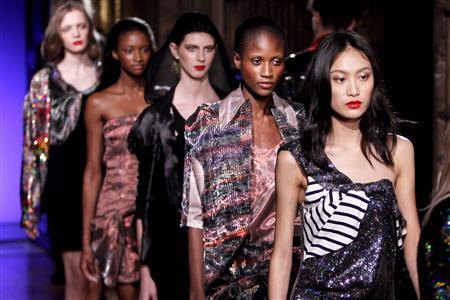 As big names like Christian Dior and Giorgio Armani flew in celebrities for an hour of opulence, newcomers revealed a somewhat less glamorous side of fashion -- such as personally sewing together gowns to save money.
"I like clothes that make me feel good, that I can mix," pop star Tina Turner told Reuters at the Giorgio Armani Prive show, dominating a front row full of actresses.
The feel-good factor of haute couture gowns is essential to the world's most expensive brands, helping them sell bags and perfume to the masses, but that formula seemed less certain as several houses faced deep losses and redundancies.
From Christian Lacroix to Cacharel, a number of famous names have fallen victim to the economic downturn. The not-so-famous ones are trying to survive with a mix of grit and elegance.
Alexandre Vauthier, who on Monday 25 January showed a collection of batman dresses in black or shock colors with chunky rhinestone belts and chokers, started his label about a year ago.
After his first collection last year, in the middle of the economic crisis, retailer Bon Marche ordered 15 dresses -- but Vauthier did not have the funds to have them produced.
"I was glad to earn a bit of money, so I hand-sewed the 15 dresses with a friend," he said. The two were holed up in a cottage in the countryside until they finished the job.
"SUPER-EXCLUSIVE!"
"Hey, it means the dresses were super-exclusive!" Vauthier said, laughing. Since then, things have improved somewhat -- singer and fashionista Rihanna has worn one of his creations.
France's government has tried to prop up its struggling fashion sector, which employs 125,000 people, and on Monday 25 January announced it would create a "fashion bank" to lend money to firms.
At Armani, such pragmatic talk was shunned. Instead, Italian designer Giorgio Armani indulged in a moonlit fantasy, with softly sculpted and folded white or black dresses. Crescent-shaped bags, fastenings and pendants completed the lunar look.
"The inspiration came to me when I was watching the moon rise over my holiday home," Armani said backstage after the show.
No such dreaminess was seen at Dior, where British designer John Galliano dressed modern amazons in riding gear, watched by pop star Kylie Minogue.
"Our success lies in creativity and expertise, in the language of haute couture, which is our history and our lethal weapon in the fight on the market," said chief executive Sidney Toledano.
(Additional reporting by Mathilde Gardin)
© Thomson Reuters 2023 All rights reserved.