Outlook darkens for US back to school sales
By Nicole Maestri - Analysis
SAN FRANCISCO (Reuters) - In January, as retail executives gathered in New York at the industry's annual convention, one event was on everyone's mind -- the back-to-school shopping season.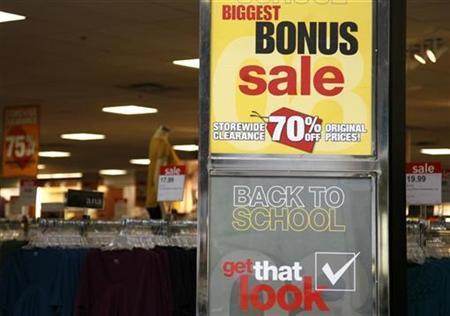 Reeling from their worst Christmas sales season in nearly four decades, executives said they were writing off the first half of the year and were looking for relief during the back- to-school season, when parents typically view purchases of new clothes, shoes or computers as essential.
That season is now in its early days and, judging from the decline in June sales reported by many U.S. retail chains on Thursday 9 July, consumers will not be giving retailers the relief they want.
With home prices falling, access to credit still tight, and the jobless rate at a 26-year high of 9.5 percent, consumers are not in a spending mood.
"Sales should be looking better at this point than they do and they're still not looking good," said Erin Armendinger, managing director of the Jay H. Baker Retailing Initiative at the Wharton School of the University of Pennsylvania.
"Consumers are still being bombarded with disappointing news and it's still stressing them out."
That does not bode well for back to school sales, she said.
SECOND BIGGEST SELLING SEASON
The back-to-school season is the industry's second-biggest selling period after Christmas, but National Retail Federation spokeswoman Ellen Davis expects it will be a tough one this year.
"It would not be surprising if back-to-school this year is just as challenging if not more so than it was a year ago," she said.
Last year at this point, consumers had not yet been rocked by a global financial crisis that erased stock market and housing wealth and dried up access to credit.
Davis said retail sales declines in the first half of the year have been more substantial than the NRF was expecting, although the trade group still expects an uptick in sales in the fourth quarter.
As has been the trend, price will be a key factor in making back-to-school buying decisions.
"Fashion and brand names aren't going to be as crucial this back-to-school season," said Ken Perkins, president of Retail Metrics.
Retailers such as Aeropostale Inc (ARO.N), which offer teens the latest styles at low prices, are well positioned, but Abercrombie & Fitch Co (ANF.N), with its high prices, will struggle, he said.
Low prices are not just a key to wooing parents, they will also be key in wooing teenagers who shop for themselves but may be doing so with less money this year.
According to global outplacement consultancy Challenger, Gray & Christmas Inc, the number of teenagers hired for summer jobs through June is slightly ahead of 2008. But it said that, if teen hiring remains slightly ahead of 2008 through the end of July, 2009 will be the second worst summer job market for teens since the late 1950s.
SLOW START, SLOW FINISH?
As in years past, the back to school shopping season is expected to start off slowly and pick up steam in August, when students return to classrooms and college kids head to campus.
With money tight, analysts expect shoppers to procrastinate as long as possible before making purchases and they will need to divvy up tight budgets between spending on clothing, shoes, school supplies and electronics.
The NRF's Davis said parents view purchases of electronics such as computers as necessities for the back-to-school season because they are used for school work. But with budgets under pressure, sales of nice-to-have electronics, such as digital cameras and MP3 payers could struggle.
Retailers have spent the past year preparing for back to school by buying less inventory, hoping they will not have to slash prices if demand fails to materialize.
But in June, many retailers were forced to do just that after cool, damp weather meant they could not sell enough shorts, sundresses and T-shirts.
Retailers are now hoping they have stocked the right merchandise in the right quantity and at the right price to appeal to today's uncertain shopper.
"The wild card here is going to be shoppers," said Eric Beder, an analyst with Brean Murray, Carret & Co. "It's the same thing as (the Christmas) holiday -- are people going to wake up and decide to shop? Based on June, I don't get warm and fuzzy on that."
(Additional reporting by Alexandria Sage in San Francisco and Ben Klayman in Chicago; editing by Andre Grenon)
© Thomson Reuters 2023 All rights reserved.