Out of public eye, Arab women power haute couture
PARIS/DUBAI - They are rarely spotted on the front row of a fashion show and favour discretion when placing orders, yet women from the Middle East have become the world's biggest buyers of high fashion.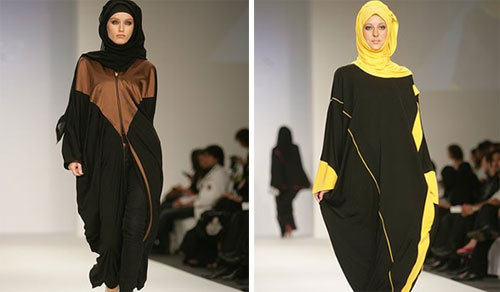 A fashion catwalk in UAE
The trend may surprise given that many Arab women, particularly in the Gulf region, are traditionally kept under wraps.
But their social calendar, which usually consists of 15-20 weddings a year and private parties every month, creates much bigger demand for couture than the occasional charity ball and high society party in Europe and in North America.
And wearing the same dress twice is not an option.
Traditional buyers of exclusive designer clothes tend to include members of rich industrial or royal families and expatriates.
The biggest buyers of haute couture today centre around the Gulf -- Saudis, Kuwaitis, Qataris and nationals of the United Arab Emirates (UAE) who do not hesitate to spend 50,000 euros on a low-cleavage lame for an event where no men will be present.
"All the royal families of the Middle East are our customers," Catherine Riviere, head of haute couture at Christian Dior, told Reuters at the brand's show at Paris Fashion Week which ends on Wednesday.
Middle Eastern customers have also recently shown growing support for Lebanese designers such as Elie Saab and Zuhair Murad.
Fashion executives say the Middle East is likely to remain the top couture client for the foreseeable future if the economic environment deteriorates in Europe and North America.
The luxury goods industry has not yet been hit by the global slowdown but many analysts fear it will not come out of the downturn unscathed, particularly if China's growth starts to slow down.
"Women from the Middle East are our top buyers and they are likely to remain so," said Jeffry Aronsson, who became chief executive of Emanuel Ungaro three months ago, having run Donna Karan, Oscar de la Renta and Marc Jacobs in the past.
UNIQUE, EXTRAVAGANT AND CHIC
Reem, the daughter of a major construction tycoon in the Middle East, spends much of her time flitting between Paris, London, Dubai and Beirut and is a regular buyer of couture. She has also started to design some of her own jewellery.
"I want to be different from others," she said in an interview at her Paris flat in the leafy 16th arrondissement, asking to be identified only by her first name.
"What I want is unique pieces, extravagant and chic. I do not want to pay 5,000 or 6,000 euros for a dress, as it happened to me with a Pucci outfit recently, and see it on somebody else the same evening."
Generally at weddings in Gulf countries, men and women are split into two separate groups, attendees say. Thousands of women gather together in one big ball room -- all wearing haute couture -- and some are not afraid to wear provocative and revealing outfits.
"Some women go for deep cleavage or even transparent fabrics," said Reem, who regularly attends such weddings and buys between 30-40 designer dresses a year. At a royal wedding, the dress code calls for more restraint in terms of style, neckline and hemline.
Valued at 700 million euros ($930 million), designer clothing is by far the biggest segment of the luxury goods industry representing 42 percent of overall luxury goods sales in the UAE, the biggest buyer among Gulf states, with women's designer dresses and skirts leading the way, Euromonitor International said in a report published in June.
"For us, with China, the Middle East is the market that is growing the fastest," Hermes Chief Executive Patrick Thomas told Reuters at Paris Fashion Week. "These markets for a long time preferred a more ostentatious type of luxury and now want a more refined and discreet style," he added.
Thomas said the Middle East only started to pick up strongly two to three years ago and now generates 30-35 percent in annual sales growth a year.
For Dior, Chanel, Valentino, Stephane Rolland and other luxury labels favoured by affluent Middle Eastern women, the biggest challenge is keeping a detailed track record of who buys what, to avoid selling the same dress to members of the same circles, attending the same event.
"A good retailer must know the whole family of the buyer and ask her as many questions as possible as we are not allowed to make mistakes," said a Dior sales assistant based in Western Europe, specialising in the brand's Middle Eastern clientele.
Very often, the race was on for the most expensive dress, not for the most elegant or stylish, she said, declining to be named.
With weddings lasting three, and sometimes up to seven, days, each client needs at least 5-10 different outfits -- good news for fashion companies but complicated to keep track of.
"Of course, we cannot centralise everything but we try," said the Dior sales assistant.
STATUS AND SUCCESS
For Middle Eastern women, couture is a symbol of social status and success. At parties and weddings, they want to shine and impress potential mothers-in-law scouting for eligible brides.
Fashion experts say Middle Eastern women opt for dresses which use a lot of crystals, gems or heavily embroidered and embellished fabrics.
"I had the opportunity to see a wedding that was recently held here in Dubai. 4,000 women were invited to the reception and everybody in the room was wearing haute couture," said Simon Lock, who works as creative director for Dubai Fashion Week. "And there are lots and lots of weddings to attend. The wedding season is very expensive here.
"I have known of many occasions when a couturier will be invited to a private home for a showing. The hostess will buy maybe 20, 30 couture outfits for a season," says Lock, adding that prices start at $3,000 and can reach $75,000. A Dior wedding dress can fetch $1 million.
Dior, Chanel and many other major luxury brands also stage private shows at hotels in the Middle East or in the comfort of the home of their most regular customers.
"Royal families are our buyers," said Dubai-based fashion designer Rabia Z. "They will call us for an appointment and we go as often as they ask us to come. They love the fact that we give them the option of changing the color, or making it shorter or longer."
But many prefer to fly to Paris, Milan or London than shop locally so they can have more choice and see up-to-date collections, fashion insiders say.
The shopping season usually starts in Italy in June. In July and August, it tends to concentrate around the Riviera, where many Gulf women spend holidays, and it finishes in September in Paris and London.
CENTRES OF GROWTH
Qatar, the world's richest nation per capita, is one of the few economies in the world enjoying strong economic growth with a GDP growth forecast of 19 percent for this year, according to analysts.
Qatar is organising its first fashion week with a target date of March 2012. One of the biggest supporters of the fashion event is Sheikha Mozah bint Nasser al-Missned, the glamorous wife of the emir of Qatar who regularly features in Gulf tabloids along with Queen Rania of Jordan.
Sheikha Mozah -- regarded as one of the world's biggest buyers of couture, according to fashion experts -- is also behind the creation of the Qatar Luxury Group in 2008. Based in Doha, it hired designer Stephane Rolland to create a fashion brand from scratch that it is aiming to unveil next spring.
The secretive group, financially supported by the Qatar Foundation the Sheikha created, made its first acquisition this year when it snapped up Paris-listed leather goods maker Le Tanneur for 26 million euros, and is on the lookout for more European brands.
The group is headed by Gregory Couillard, a former executive at the world's biggest luxury group LVMH , which owns Dior and Louis
© Thomson Reuters 2023 All rights reserved.