Oscar fashion goes bold. Thank Lady Gaga!
Feb 22 - Taking a tip from music stars Lady Gaga and Nicki Minaj, Hollywood's A-list actresses are expected to turn up on Oscar's red carpet in many bold, futuristic designs, fashion experts predict.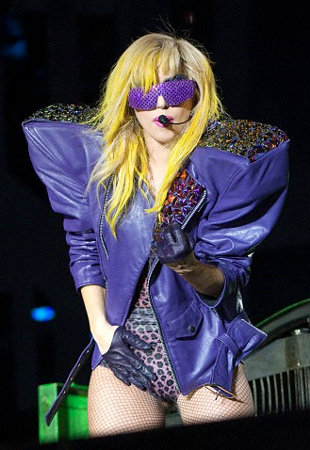 Lady Gaga performing at the Lollapalooza music festival in Chicago; August 2010.
The eye towards the future marks a turnaround from recent years in which styles at Hollywood's biggest awards shows have featured vintage gowns, subdued designs and colours, and less jewellery in a nod to the world's economic woes.
But with consumer confidence up, Hollywood's top female actresses will be wearing distinctive gowns highlighted by draping and accented shoulders and sleeves. Expect a wide array of colours, from pale shades and skin tones to bold purples, oranges, midnight blues and classic black.
Designer Marc Bouwer said this year's futuristic fashions are influenced by some of the "out-there" costumes of pop music superstars like Lady Gaga, Minaj and now Britney Spears as seen in her latest video, "Hold It Against Me."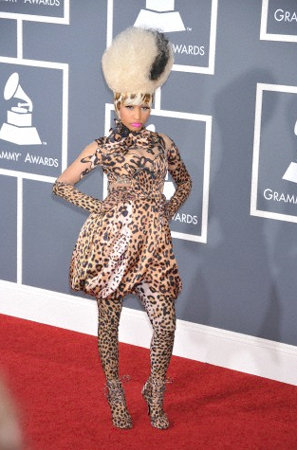 Singer Nicki Minaj arrives at the 53rd Anual Grammy Awards; February 2011
"Artists are starting to dress much more crazy, more out there and it has a ripple effect on fashion," said Bouwer. "While you won't see a Lady Gaga outfit necessarily on the Oscar red carpet, you will see more architectural styles -- an expanded shoulder, a pronounced sleeve. The stronger power woman has emerged, and you cannot ignore that trend."
Styles on the red carpet ahead of the world's top film honours are expected to be similar to those debuting last month at Hollywood's Golden Globe Awards.
At that show, "Glee" star Lea Michelle dazzled fashionistas in a pink asymmetrical Oscar de la Renta gown, and other actresses such as Nicole Kidman, Michelle Williams and Scarlet Johansson turned up in skin tones and pale shades of rose.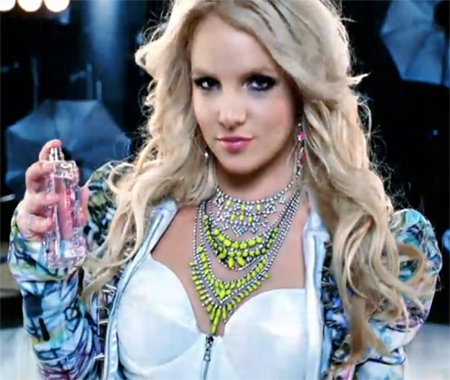 Britney Spears on new 'Hold It Against Me' music video
Jewellery IS BACK
This year Bouwer, who famously dressed Angelina Jolie in a white satin halter dress for the 2007 Oscars, is working with nominees including "The Fighter" star Melissa Leo on the trend he calls, "futuristic architectural minimalism."
It is a look that he and others said not only takes into consideration the dress, but accessories that come with it.
"We're going to see statement pieces," said Greg Kwiat of Kwiat Diamonds. His jewels previously were worn at the Oscars by past nominees such as Anna Kendrick and Natalie Portman.
Natalie Portman wearing a Kwiat Diamonds bracelet
"A bracelet, a necklace. There will be everything from classic diamonds to lots of colours like yellow gold or aquamarine," Kwiat said.
If the dresses and jewels are bold, then the hair has to be simple and "not so overly complicated" according to celebrity hair stylist Anthony Morrison.
"Whether the hair is up or down, it's more about having a finished look, not frizzy or dishevelled," he said. "We've been using a lot of smoothing products to make sure hair is glossy, shiny and polished."
Hair colour is also expected to be big and bold this year.
"The colour is going to look amazing," Morrison said. "Rich brunettes, gorgeous reds and perfect blondes. Everybody will enhance whatever colour they have."
Colour enhancement is likely to be seen in many gowns, as well, along with classic black and ivory found at black-tie events. Allen B. Schwartz, creative director of A.B.S. by Allen Schwartz said to expect bold greens, purples, corrals, oranges and midnight navy.
"Colour is usually about positive energy," he said. "We all know what's gone on with people struggling because of the economy. Everyone has started off the year with a renewed energy for a better time (and) colour is about being happy."
By Zorianna Kit
(Editing by Bob Tourtellotte)
© Thomson Reuters 2022 All rights reserved.