Option players hope to catch more share gains in Crocs
By Doris Frankel
CHICAGO (Reuters) - Option players in Crocs Inc (CROX.O) appear to be betting on improved prospects for the shoe company after it reports quarterly results this week and that shares will rise by at least 66 percent into the summer.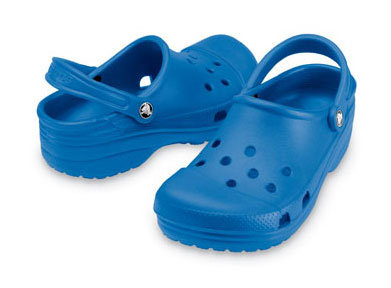 Cayman Sandals from Crocs
On Nasdaq, the stock rose 38.86 percent or 89 cents to $3.18 in late trade. Its shares have remained relatively stable since the beginning of this year but are down more than 95 percent from their October 2007 peak of $75.
Many investors also strongly favored Crocs call options, which give buying rights to the stock.
In all, about 35,000 calls traded compared to 3,259 puts, 26 times the typical combined daily volume near the close, option analytics firm Trade Alert data showed.
Crocs is due to report first-quarter results on Thursday 7 May after the bell. Research firm Wedbush Morgan said on Monday 4 May the company is likely to report a narrower earnings loss of 21 cents per share as opposed to a consensus estimate of a loss of 27 cents.
Four analysts polled by Reuters Estimates were expecting a loss of 27 cents per share, excluding items.
"We are seeing active trading in May and June calls at the $4 and $5 strike prices, indicating that some investors are expecting a move higher beyond $4, and perhaps even $5 this summer," said Frederic Ruffy, options strategist at Web information site WhatsTrading.com.
"It is probably a play on earnings and that maybe the worst is over for the battered shares," he added.
Crocs' brightly colored resin shoes propelled it into the limelight midway through the decade, but sales in the United States and globally have since dropped off due to their waning popularity and the recession.
The company has been trying to slash costs and reduce inventory. It has laid off workers, closed factories and consolidated distribution centers and warehouses, shuttered smaller business units and postponed apparel initiatives.
"Investors have suffered at the loss of its trend status," said Andrew Wilkinson, senior market analyst at Connecticut-based Interactive Brokers Group.
"The catalyst today for the bullish option activity has been an analyst note reminding investors that recent management changes might get the company's brand successfully back on track."
Wedbush said Crocs new chief executive, John Duerden, brings important expertise, but cutting costs is still key.
Wilkinson also observed bullish positioning in the May $4 call strike which extended as high as the June and September $5 call strikes, suggesting option traders' belief shares will rebound vigorously over the summer to at least $5 per share.
Earlier in the session, investors paid 25 cents a contract for about 3,500 May $4 calls and in the June contract, a 35-cent premium for the $5 call strike, he said.
The demand for call options earlier boosted the stock's overall option implied volatility to 200 percent, up 25 percent from the previous session.
"The high level of implied volatility indicates investors optimism for a sharp rise in share movement post earnings," Wilkinson said.
(Reporting by Doris Frankel; Editing by Kenneth Barry)
© Thomson Reuters 2023 All rights reserved.