Online business strengthens Sports Direct International
The British group Sports Direct International posted a 22.5 increase sales to 1.33 billion euros for its first half year (the past 26 weeks ending October 28, 2012), while its gross operating profits jumped 17.2%. Sports Direct International's chief executive David Forsey attributed the good results to the dynamic created by the Euro Cup and the London Olympics. He also cited the performance of the company's one-year-old Premium Lifestyle division, whose sales totaled 69 million euros for the reporting period, an increase of 150%. The acquisition last July of a 51% stake in the independent luxury multibrand chain Flannels bolstered the growth even further.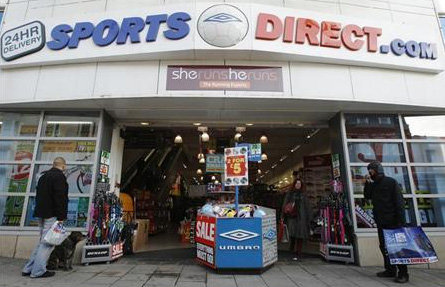 Photo Reuters
The premium division also contributed to the boost in online sales, which surged by 54% to represent 12.5% of Sports Direct's global retail sales, compared to 9.5% during the same period last year. In September Sports Direct also acquired a large share of stocks and twenty stores of the JJB Sports chain, which is currently in bankruptcy court.
At an international level, retail sales were up 11.4% to 111 million euros. The group has 398 stores in the UK excluding Northern Ireland and is pursuing its ambitious plans to be present in all euro zone countries in the next 5 years. During the financial reporting period, Sports Direct opened three stores in Belgium, two in Portugal, two in Hungary, two in Slovakia, and one each in Slovenia, France, Luxembourg and the Czech Republic. The group has also signed a joint venture through which it will open its first store in Iceland in May.
Copyright © 2023 FashionNetwork.com All rights reserved.