One-piece rompers seen as hot outfit for spring
By Martinne Geller
NEW YORK (Reuters) - One-piece romper suits that combine shorts with a shirt are mostly worn by infants, but that may be about to change.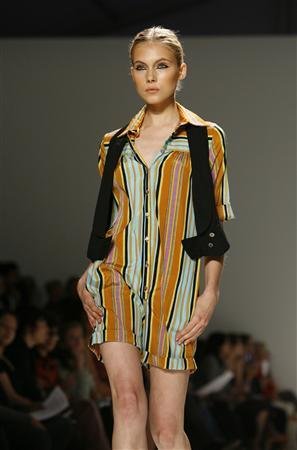 Designers of all stripes who showed their Spring 2009 collections this week in New York featured the unusual garments with styles ranging from baggy military-influenced outfits to form-fitting body suits resembling leotards and swimsuits.
"That's all anybody's talking about," said James Aguiar, co-host of the "Full Frontal Fashion" television show. "Absolutely every designer that I've seen so far had a version of it."
Among the more practical versions shown at Fashion Week were a shirtdress-style striped romper with elbow-length sleeves by Mara Hoffman and two rompers by Peter Som, in tweed and periwinkle, that were paired with belts. Alexandre Herchcovitch showed a short-sleeved tan romper with shoulder epaulets, silver buttons and bloomer-like shorts.
Betsey Johnson showed a whimsical overall-inspired romper with blue and yellow stripes and ruffled trim, while Marc by Marc Jacobs had a more tailored version topped with a blouse.
Whether women will wear rompers remains to be seen.
The roomier interpretations may skew toward younger women, Aguiar said, while less forgiving styles may go nowhere.
"You can't take the runway so seriously. You have to take away that some of these things are for the theatrics of it," Aguiar said. "But when you see these things over and over and over again, it's a trend that's going to be very serious."
Some designer rompers feature long or full shorts, while some were as small as a baby's onesie and others cropped like a 1940's style swimsuit.
Max Azria showed neutral-colored rompers that were loose-fitting and draped at his BCBG show, while his signature show included a beige cotton knit bodysuit that had very short shorts.
"When they are that brief, I don't know where you'd wear it to, except for lingerie," said Constance White, style director for eBay Inc. "I'd like to think designers are taking poetic license when they show those."
Popular retailers including American Apparel Inc, Urban Outfitters Inc and Victoria's Secret are already selling rompers that would be at home at the beach, at a backyard barbecue or in bed.
At his signature show, New York designer Marc Jacobs paired a long-sleeved jacket, cinched with an obi-like sash, with ultra-short boy shorts.
Abaete showed a blousy asymmetrical white shirt paired with a blue bottom in a shape reminiscent of a classic maillot.
Akiko Ogawa showed a leather bodysuit that looked like a swimsuit, but would certainly disagree with sand and surf.
But Aguiar noted there is big business in outfitting women for time spent in the resorts of St. Tropez or Capri.
"Oftentimes you throw on a little cover-up and you're ready to go for cocktails. It's a very aspirational situation."
(Additional reporting by Jan Paschal, Claudia Parsons and Ellen Wulfhorst)
© Thomson Reuters 2023 All rights reserved.