Obesity becoming US civil rights issue for some
By Edith Honan
NEW YORK (Reuters) - Kate Harding has spent most of her life on one diet or another, losing weight but always gaining it back. Determined to improve her quality of life, she joined a fast-growing group of anti-dieting activists promoting overweight people's civil rights.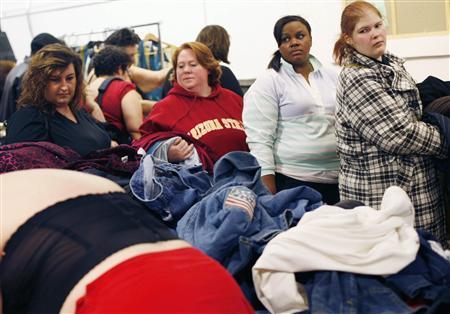 Launching an anti-dieting blog called Shapely Prose, Harding and other fat-acceptance advocates online -- calling themselves the fat-o-sphere -- are also educating one another about how to improve overweight people's health.
She and other bloggers with names like FatChicksRule and Big Liberty say society's "war on obesity" makes overweight people hate their bodies and suffer from low self-esteem.
"Being fat doesn't make me lazy or stupid or morally suspect," said Harding, 34, of Chicago, who also has written a book, "Lessons from the Fat-o-Sphere."
"The message we're promoting is health at every size."
Her blog entries criticise dieting obsessions and ponder coverage of weight issues in the mainstream media.
Since launching her blog, Harding, who says she is 5 foot 2 inches (1.6 metres) tall and about 195 pounds (88 kg), says her body image has improved. But she admits wearing a bathing suit in public "can still throw me for a bit of a loop."
Fat-acceptance advocates are starting to organise to promote anti-bias laws, encourage tolerance in health care and the workplace and help retailers recognise the profit potential of catering to plus-size customers.
"People are just beginning to think about being empowered," said Lynn McAfee, director of medical advocacy at the nonprofit Council on Size and Weight Discrimination.
"The emphasis has just been 'lose weight and everything will be fine,' and it's becoming really clear that people aren't losing weight," she said. "So we want to shift the emphasis to making us as healthy as we can be at whatever weight we are."
Activists say the movement is beginning to amass some victories, from larger seat belts in cars to a decision by the Supreme Court in Canada that obese and disabled people travelling on airplanes can't be forced to buy a second seat.
The Fox television network is developing a reality show featuring "average looking" people called "More to Love," billed as a "dating show for the rest of us."
The National Association for the Advancement of Fat Acceptance, a civil rights group formed in 1969, has found new life as fat-acceptance advocates gain force online.
There are now more than 50 fat-acceptance blogs and more than a dozen books promoting the idea, from Linda Bacon's "Health at Every Size" to Wendy Shanker's "The Fat Girl's Guide to Life." There are even romance novels featuring plus-sized characters with names like "Dangerous Curves Ahead."
But the dominant view remains that overweight people should be focussed on losing weight.
Some two-thirds of Americans are considered overweight or obese. Cities across the country have declared wars on obesity, calling it a costly public health crisis that increases the risk of heart disease, type two diabetes and certain cancers.
Obesity-related health care cost upward of $100 billion a year, research shows.
PERVASIVE DISCRIMINATION
There are no U.S. laws prohibiting weight discrimination, and only one state, Michigan, has an anti-weight bias law. Legislatures in Massachusetts and Nevada have taken up size-bias bills, but similar efforts have failed in recent years.
Weight discrimination is pervasive, said Rebecca Puhl, director of research at Yale University's Rudd Centre for Food Policy and Obesity.
An "obesity wage penalty" -- larger employees getting paid less regardless of job performance -- is widespread, and research shows overweight people are less likely to land a job or be promoted than a non-obese worker, she said.
"We do need to fight obesity, but not obese people," said Puhl. "Individuals ... who are discriminated against because of their weight are more likely to engage in unhealthy eating behaviours and avoidance of physical activity."
Anecdotal evidence also suggests overweight people avoid trips to the doctor out of fear of being mocked.
According to NAAFA, about 70 percent of overweight and obese women have experienced bias from doctors. Others complain of being turned down by health-insurance companies.
Bloggers in the fat-o-sphere track cases of discrimination they say go uncovered in the mainstream media.
Just recently, United Airlines, a unit of UAL Corp, said it will require obese passengers bumped from full flights to purchase two seats on a subsequent flight. That would match the policies of other carriers, including Continental, Delta, JetBlue and Southwest Airlines.
SEXY AT ANY SIZE
Deb Malkin, 39, considers herself a fat-acceptance advocate but leaves the political battles to others.
Instead, in what she describes as a labour of love, Malkin has opened ReDress, a plus-sized vintage clothing boutique in New York's Brooklyn borough.
Housed in an airy 3,000 square-foot (280 square metre) space, ReDress sells frilly dresses, formal gowns and jeans, all in size 14 and up.
One recent afternoon, shoppers carried armloads of clothing to spacious dressing rooms, while sales assistants compared the comfort of ReDress to the more typical shopping humiliations of plus-sized consumers.
"There's a whole indy fashion world that we don't have access to," said Malkin. "I think women just come in here and are so excited."
Bevin Branlandingham, who considers herself a fat activist, has worked in Malkin's store since it opened in November.
Sorting through lingerie, a frock from the 1960s and a colourful size 22 dress by Calvin Klein, Branlandingham said she likes to help women overcome hatred of their bodies.
Branlandingham, who is partial to dresses with plunging neck lines, says she discourages women from buying so-called goal outfits that are too small and instead pick out things that flatter their figures.
"I feel like my life's mission is to make the world safer for people to love themselves no matter what their differences," she said.
© Thomson Reuters 2022 All rights reserved.