No sombre mood allowed on Paris catwalks
PARIS | Thu Oct 6, 2011 - Paris Fashion Week ended like it started with a positive and relaxed spirit and a skilful bow by Lebanese designer Elie Saab with a glamorous 1970s collection for next summer inspired by the American TV series Charlie's Angels.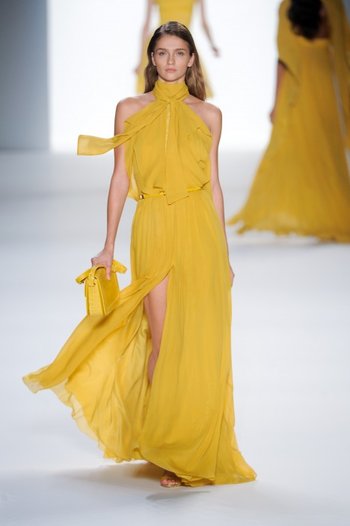 Elie Saab - SS 2012 / Photo : Pixel Formula
The poplin mustard and orange dresses, with floating bows around the neck, thin beltline and wide sleeves, appeared tailor-made for Farrah Fawcett, Kate Jackson and Jaclyn Smith on a mission in a high society cocktail party.
Models ambled down the catwalk to soft, lounge music wearing ample, shimmering dresses that waved around with each step.
Faithful to his slightly provocative style, some of Saab's dresses had plunging neck lines, nude backs and a few were slit high up to show the models' thin sporty legs.
Striking pieces included sequined dresses in lapis lazuli blue or emerald green nipped at mid-calf with long trains to create a mermaid-like silhouette.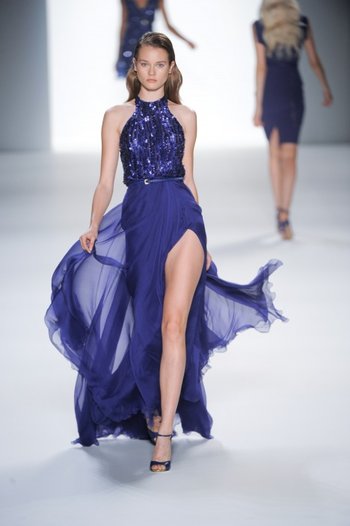 Elie Saab - SS 2012 / Photo : Pixel Formula
Saab said the collection paid homage to the TV series but also more generally to the 1970s which was for him a happy, care-free period during which women were liberated and proud.
"I have a lot of memories from the 1970s as a child," Saab told Reuters after the show. "Back then, women were cool, relaxed and self-confident."
Saab, who launched his first perfume two months ago, is favoured by pop singers such as Beyonce and Christina Aguilera, Middle Eastern women and wives of Russian oligarchs, fashion experts say.
Created in the late 1990s, the label has an important couture business on top of its ready-to-wear sales and is now aiming to open outlets in China and Brazil, its director said.
"We are in an aggressive growth mode, so whatever is happening with the economy, people will buy our clothes," Elie Saab Managing Director Chucri Cavalcanti told Reuters.
The brand sells in shops in Paris, Beirut, London and Dubai as well in some 45 multi-brand stores around the world.
UPBEAT AND RELAXED MOOD
Ending a month-long marathon of fashion shows which started in New York, fashion critics said the mood on the catwalk was upbeat and relaxed - in contrast with the gloomy media headlines they read in the papers while waiting for the show to begin.
"I find this spring/summer season to be much lighter and uplifting than the others," said Linda Fargo, senior vice-president in charge of fashion at Bergdorf Goodman.
"Some of the clothes literally seem to float."
At Hermes, the trend expressed itself with wide, long white, ochre and orange tunics while at Stella McCartney, the theme was a chic pyjama party with loose-fitting pant suits and shorts, with flat sandals or nude shoes.
At Valentino, specialist in extra-high stilettos, models this time strutted in flat sandals as they presented delicate candy pink Chantilly-lace dresses.
Inspired by the aquatic world, Karl Lagerfeld at Chanel produced a relatively easy-to-wear collection ornamented with pearls, seashells and printed waves in Paris' cavernous Grand Palais, transformed into a giant seabed for the occasion.
Chanel, Valentino but also Lanvin and Christian Dior made much use of feather-light, flowing materials such as organza, tulle and silk to make dresses look weightless.
"Transparencies, with ultra-light and sheer fabrications, were prevalent, lending a romantic mood to the season," said Colleen Sherin, Senior Fashion Director at Saks Fifth Avenue.
Sea colours such as coral and turquoise dominated the palette at brands such as Emanuel Ungaro, Christian Dior and Chanel.
But there were also surprising touches of autumn colours such as ochre, light purple and Celadon green at brands such as Yves Saint Laurent, Balenciaga and Haider Ackermann.
Overall, fashion critics said Paris Fashion Week was so infused with positive energy, it was hard to believe a global crisis was brewing.
"As much as media is painting a picture of unrest, it is not influencing customers yet," said Ken Downing, Fashion Director at Neiman Marcus.
(Reporting by Astrid Wendlandt)
© Thomson Reuters 2023 All rights reserved.