Nipple tassles aside, Aussie Fashion Week strikes serious notes
By Belinda Goldsmith
SYDNEY (Reuters Life!) - Feathers stuck on eyebrows. Men in skirts. Pink nipple tassles. Models painted blue who could have come straight off the set of the movie Avatar.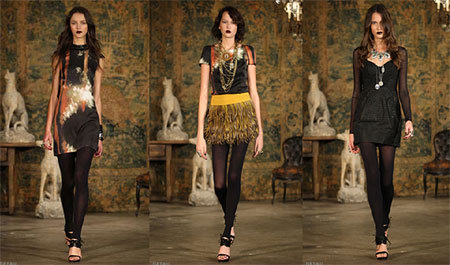 Models wear Lisa Ho's winter 2010 collection - Photo: www.lisaho.com
Australian Fashion Week did not disappoint those who love -- or loathe -- the extravagant flourishes on the catwalk with the bizarre standing out from a sea of more muted shows that consisted mainly of black, grey and white.
But the aim of the 15th annual Australian Fashion Week was serious -- to promote both established and a new guard of Australian designers locally and overseas in a market that is strengthening after last year's global financial crisis.
Many of the 160 plus international buyers and media who descended on Sydney for the week-long show agreed the collections weren't so offbeat and added to the image of Australian designers coming up with wearable, unique fashions, and not just swimwear.
"The bulk of the designers showing at (Australian Fashion Week) beat to their own localised drum, hardly touched by the major shifts that the northern hemisphere fashion capital shows have prompted," wrote blogger Susanna Lau of stylebubble.co.uk.
"The (Australian) designers have developed their own aesthetic ... and their home fanbases regularly buying these brands proves that."
With London, New York, Paris and Milan securely placed as the world's four fashion capitals, Australia is trying to position itself as the main fashion centre in the Asia Pacific region.
Founded 15 years ago by Australian PR and marketing consultant Simon Lock, Australian Fashion Week has grown over the years to be bought in 2005 by marketing and management company IMG whose portfolio also includes fashion events in New York, London, Milan, Berlin, Miami and Mumbai.
"We are looking to expand in Asia and considering several other possibilities," Daniel Hill, general manager of IMG Fashion Australia, told Reuters.
PLUS-SIZED MODELS PROTEST
Last year's Rosemount Australian Fashion Week shrunk by 15 percent amid the global financial woes but numbers were back up in 2010 with over 165 registered international buyers and media, up from 134 a year ago, and more than 60 shows, up from 41.
One of the most closely watched designers was Dion Lee who made his debut at last year's fashion week while established labels Zimmerman and Alex Perry were also praised.
On the catwalk Aboriginal model Samantha Harris created a buzz, kicking off the show on Monday 3 May for Lisa Ho.
Few Aboriginal models have been successful to date with supermodel Naomi Campbell commenting on the absence of Aboriginal models but Harris, 19, has been a rising star since she entered a contest in a teenage magazine in 2004.
Her appearance at fashion week coincided with her appearance on the front cover of Vogue Australia's June issue, the first Aboriginal model in the coveted position in 17 years.
Harris was one of the models in Camilla Franks' 20th Century Fox sponsored show painted in blue like a character from Avatar, all of them tall and thin.
A group of plus-sized models protested on Thursday 6 May, claiming they have been shut out by the Australian industry and wearing T-shirts with slogans such as "I love my curves."
Big Gal Models agent Darrianne Donnelly said the industry had gone backwards after showcasing 18 plus-size models last year.
"The public wants to see themselves, in all shapes and sizes, not just size 6," Donnelly told Sydney's The Daily Telegraph.
(Editing by Sugita Katyal)
© Thomson Reuters 2023 All rights reserved.