New York museum extends hours of McQueen exhibit
July 29 - The Metropolitan Museum of Art is extending the hours of its wildly popular Costume Institute exhibition featuring the work of late designer Alexander McQueen.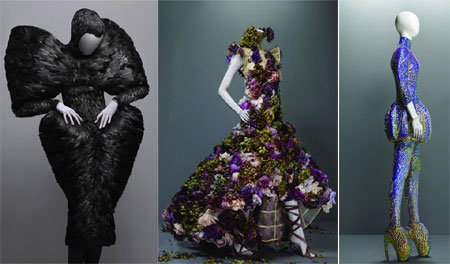 The Alexander McQueen "Savage Beauty" exhibition
The museum, which had already extended "Alexander McQueen: Savage Beauty" past its original end date of July 31 and also lengthened viewing hours, will offer unprecedented late-night, final weekend hours to accommodate the crowds expected before the exhibit closes on August 7.
Galleries will remain open until midnight on August 6-7, the museum said. It marks the first time the Met has kept an exhibition open until midnight.
"We have created these late hours to satisfy the unprecedented interest in this landmark retrospective," said Thomas P. Campbell, the museum's director and CEO.
"Visitors from across the globe have come to see this remarkable exhibition, and we want to keep it open for as many people as possible." he added.
The McQueen exhibit has already attracted over half a million visitors since it opened on May 4.
McQueen, 40, committed suicide last year at his London home. His will was made public this week, with the bulk of his more than $25 million (15 million pounds) estate going to a trust to fund his charity.
But $80,000 was bequeathed for the care of his three dogs, the same amount he left to each of his nieces and nephews, as well as two housekeepers. Each of his five siblings received about $400,000, while a handful of other charities received six-figure bequests.

(Reporting by Chris Michaud; editing by Patricia Reaney)
© Thomson Reuters 2023 All rights reserved.