New website brings crowd sourcing to fashion
By Edward Krudy
NEW YORK (Reuters) - An Internet startup called Fashion Stake launching in coming weeks aims to shake up the fashion industry, just as peer-to-peer file sharing changed the music industry.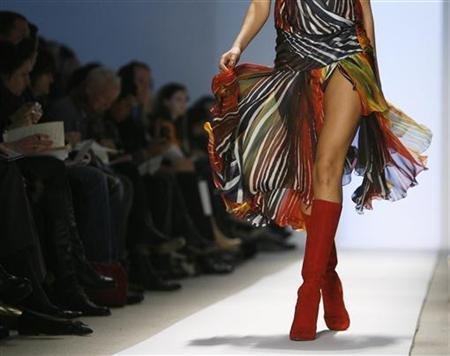 Fashion Stake will allow customers to directly fund fashion designers by browsing on-line collections and buying a stake in a collection in return for credits to buy clothes. Patrons can also share ideas with designers and vote on collections.
The model, inspired by Internet-based social media networks like Twitter and Facebook, taps into a growing business model called crowd sourcing where entrepreneurs go directly to customers for content, funding, and distribution.
Daniel Gulati, the firm's chief executive and a student at Harvard Business School where the project was born, says creative, high margin industries are moving away from a "gatekeeper" model where executives decide what the public consumes.
"We think this can be a real game changer," he said. "What we're basically doing is redirecting the margin to fans and cutting out the retailer altogether."
Advocates of crowd sourcing say it offers consumers a cheaper, more flexible alternative and frees artists from having to get past big corporations.
New York-based designer Althea Harper says the new model could help her find funding, scarcer after the financial crisis, as well as bypass buyers at retail outlets.
"It's hard getting the retailers to trust in you as a new designer," she said. "I've seen them pick up horrible lines from more established houses just because they've got the reputation."
Olga Vidisheva, a former model and Goldman Sachs equity analyst, who is Gulati's classmate at Harvard, is looking forward to using Fashion Stake.
"You usually don't have access to the starting designers. There's a lot of pain that they go through until they can sign with Saks or Bloomingdales, said Vidisheva, who spends "several thousand" dollars a year on clothes.
POWER TO THE CROWD!
Recent years have seen a rapid growth in interactive business models and Internet-based social media, or so-called Web 2.0. Global communities centered around services like Facebook and Twitter are millions strong.
Peer-to-peer lending, linking individual lenders with borrowers, has taken off in the U.S. through companies like Prosper, while so-called open innovation companies like NineSigma allow corporations to outsource problems to networks of innovators.
"You can crowd source, you can crowd fund, you can get economies of scale, and you can customize the output to deal with local markets," said Alec Karys, a consultant advising Fashion Stake.
Gulati, a former analyst at investment bank Macquarie, sees creative industries, such as publishing and journalism, with strong fan bases, as a prime target for crowd sourcing. He points to Spot.Us, a website that allows users to select and fund journalistic work that conventional media might overlook.
"Why should we leave it up to just a couple of people to decide what the public wants? Let's actually just go straight to the crowd," he said. "It's a two way conversation between brands and their fans. It's not a one way type of logic anymore."
Harvard Professor Thomas Eisenmann, who studies platform-based businesses that exploit network effects, says the trend toward interactive business models is accelerating.
"You've got a whole bunch of businesses that worked well in Web 1.0, and those businesses either need to add social media - social networking functionality - or they're at risk of getting leapfrogged by newcomers that do this," he said.
However, Eisenmann says crowd funding has limits where curatorial choice is still desirable, for example at certain newspapers and media organizations that people turn to for editorial insight.
"I don't think the old models are going away," he said. "I think you'll see a lot of incumbent players add (network) functionality as an option."
(Editing by Mark Egan and Alan Elsner)
© Thomson Reuters 2022 All rights reserved.