New NY fashions appeal to stay-at-home traveler
By Ellen Wulfhorst
NEW YORK (Reuters) - Imaginative styles evoking journeys to far-off lands dominated New York fashion shows this week, with experts saying the spring lines reflect consumers' economic woes and desire to escape uncertainty.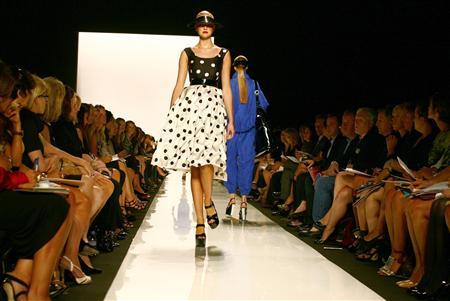 Travel-inspired slouchy trousers, trench coats, dreamy chiffons and exotic prints filled the runways, where hundreds of designers showed spring 2009 collections to buyers, media, trend-setters and critics in the semi-annual Fashion Week.
"With the recession and with the uncertainty of the presidential election looming, I think everyone wants an escape," said Tim Gunn, creative director at Liz Claiborne and a star of Bravo television's popular "Project Runway" show.
"I do," he added.
Fashion arbiter Anna Wintour, editor in chief at Vogue magazine, said designers were showing optimistic styles and focusing on their signature looks.
"No one's trying anything too insane," she told Reuters. "We're not going to see a lot of dark, dreary clothes.
"In times like these, women want to look pretty without doing anything too over the top. We've got enough bad news as it is," she said.
Designer Rubin Singer, who called his collection "Voyage," said he based the looks on luxury sea travel of the 1940s.
Rebecca Taylor said she created her collection with a "bohemian world traveler" in mind, and models at the show by Charles Nolan had maps and passports as accessories.
"We are playing on the idea of travel, not in the literal sense but the creative," Nolan said.
Tibi designer Amy Smilovic said her collection grew from a vision of "A Room with a View, set in Asia, in the 1980s," and she offered a "spice trade" blouse and "dragon lady" gown.
Peter Som said his collection was inspired by the Sahara.
Singer said he envisioned a woman escaping the tedium and troubles of everyday life to explore new worlds.
"My last collection was very aggressive, very dark, very edgy," Singer said. "I think that people are ready for something that's not so dismal. I think it's bleak enough."
Escapism has served designers well in the past, said Judy Licht, co-host of the Full Frontal Fashion television program.
Yves Saint Laurent won acclaim with his Russian peasant look in the 1970s; Michael Kors made a mark with influences from Capri and Palm Beach, and Ralph Lauren has found success using the American West and preppy New England, she said.
Besides, with the weak U.S. dollar, uncomfortable air travel and increased security issues, "this season especially, we are all armchair traveling," Licht said.
Other designers traveled in time. Diane von Furstenberg's "Rock Goddess" collection looked back to a free-spirited era of flowing clothes and joyous prints, and Milly by Michelle Smith looked to 1970s macrame and caftans.
The popularity of AMC's "Mad Men" series, set in the early 1960s world of New York advertising, showed in gingham and madras cinch-waisted dresses by Michael Kors.
Fresh silhouettes were aplenty. Vera Wang had loose-backed jackets and thigh-skimming tunics and vests, while at Marc Jacobs, Tibi, Tracy Reese, Akiko Ogawa and Twinkle by Wenlan, skirts and wide trousers were loosely draped at the hip like jodhpurs or Indian dhotis.
One-shoulder looks abounded at Max Azria, Carolina Herrera, and Charlotte Ronson. Also popular were jumpsuits, including one in black satin Derek Lam called a "trouser gown."
"There is definitely a play for new silhouettes. They have to give the customer something new to buy, and that's what we're seeing on the runways," said Robert Burke of Robert Burke Associates, a luxury consulting company.
Chiffon was everywhere, as was ombre, the dyed look of color gradating from dark to light.
Such decorative fabrics are not surprising in tough economic times, said Nina Garcia, fashion director at Marie Claire, who also is on "Project Runway."
"Part of how designers validate big price tags is by offering very, very luxurious fabrics," she said. "If you are going to buy a $4,000 dress, you don't want just plain cotton. It's more bang for your buck."
(Additional reporting by Nicole Huber, Jan Paschal and Martinne Geller; Editing by Ross Colvin)
© Thomson Reuters 2023 All rights reserved.