Natural cosmetics maker swamped with demand
By Eva Kuehnen

BAD BOLL/ECKWAELDEN, Germany (Reuters Life!) - Natural beauty care products maker Dr. Hauschka is turning down offers for new markets at a time when rivals are struggling to persuade consumers to pay up for cosmetics.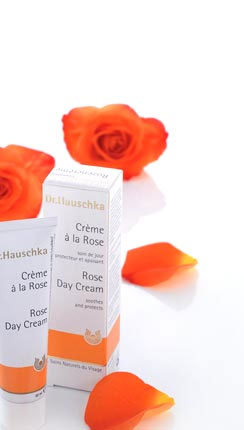 Dr Hauschka
WALA, a medium-sized company based in the sleepy German village of Bad Boll near Stuttgart, rose to fame after Hollywood star Julia Roberts and pop stars like Madonna and Kylie Minogue discovered its Dr. Hauschka natural cosmetics.
Surfing on a green wave of growing demand for organic products from food to furniture, WALA's natural remedies and beauty products are now available in more than 30 countries and keep attracting interest from distributors across the world.
"We have many requests, but we turn down most of them," WALA Chief Executive Johannes Stellmann told Reuters in an interview.
Based on the teachings of Austrian social philosopher Rudolf Steiner, WALA does not believe in pushing aggressively into new markets, but rather waits for demand to find it.
Finding sufficient high-quality ingredients and skilled staff are the main constraints to growth for WALA, which competes with brands like Weleda, Lavera, Logocos, Primavera and Santaverde in the global market for natural cosmetics.
The market has been growing about 16 percent annually over the past two to three years and generated sales of $6.9 billion in 2007, research and consulting company Organic Monitor said, expecting to see similar growth rates this year.
WALA expects anything between a 10 percent rise or fall in 2009 growth, having more than doubled sales since 2000, reaching 103 million euros ($136 million) in 2008. "But we count on medium- to long-term growth," Stellmann said.
Organic Monitor director Amarjit Sahota said WALA's market has not been affected that much by the global financial crisis, mainly due to a huge number of private label launches at lower prices and the exploration of new distributions channels, such as pharmacies, supermarkets, discount stores, spas and hair salons.
In Germany for example, which is the world's second-largest market for natural cosmetics after the United States, discount supermarkets like Aldi and Lidl have launched their own lines.
Other rivals bought into the business long ago. In 2006, the world's largest beauty products group L'Oreal bought British beauty products chain Body Shop for 652 million pounds ($983 million) and Estee Lauder bought Aveda in 1997.
CLOSED SHOP
But for WALA it is more than a business.
"It's not WALA's purpose to generate return on equity, but to transport an idea for which the corporation is a platform," Stellmann said.
It was the Austrian chemist Rudolf Hauschka who founded WALA 74 years ago making anthroposophic medicines.
He was inspired by compatriot Steiner, founder of anthroposophy, when he developed a method to preserve plants without alcohol, creating remedies to balance or harmonize the human body's own healing processes.
The company's name stands for Warmth, Ash, Light, Ash which refers Hauschka's rhythmical production process. It was banned during World War Two because of its free-thinking approach.
WALA uses predominantly pure organic raw ingredients for its medicines, cleansers, toners, moisturizers and the like. Some of which it plants in its garden in Eckwaelden, while importing others like the essential oil of roses from Afghanistan, Turkey, Iran and Bulgaria for example.
"We are real nerds when it comes to quality," Stellmann said. "We have consciously foregone opportunities to develop distribution channels or new markets because we would have had to compromise on the quality."
WALA in 1986 became a "Stiftung," or public foundation, that can neither be sold nor bought.
It has no plans to acquire others either. Its profits -- about 10 million euros in 2007 -- are reinvested or distributed equally among its roughly 700 employees.
"We constantly get offers and of course also queries whether we are for sale. That's normal today. But we've never been tempted to buy another natural cosmetics maker," Stellmann said.
The business model -- which generates a similar operating margin to German Nivea maker Beiersdorf's 12.5 percent -- has attracted interest from other small or private companies to private equity and hedge funds, Stellmann said.
"There are some big names among them," he added.
But they are banging their head against a brick wall. The move to turn Wala into a Stiftung is irreversible. "It's a closed shop," Stellmann said.
(Editing by Paul Casciato)
© Thomson Reuters 2023 All rights reserved.