Nanotechnology R&D Grows in Beauty Industry
Small particles are becoming a big business for the world's personal care products manufacturers according to an analysis of world patent activity published on tuesday by the IP Solutions business of Thomson Reuters.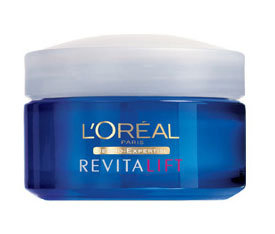 L'Oréal's Revitalift with nanosomes of Pro-retinal A
The new report, Can Nanotech Unlock the Fountain of Youth?, finds that the beauty industry has begun to make an aggressive foray into nanotechnology, using tiny molecular compounds to improve the performance of creams, sunscreens, shampoos and other personal-care products.
The report tracks unique inventions published in patent applications and granted patents from 2003 to 2009, along with trademark data from 2000 through 2009, to identify the companies and areas of nanotechnology innovation showing the sharpest growth in this industry. The findings include:
Nanotech Growth Accelerates: The volume of innovative patents involving nanotechnology in beauty and personal-care items grew by 103% over the last seven years, more than doubling from 181 patents in 2003 to 367 in 2009.
Specialty Chemical Companies Stake Claim: While L'Oreal and Amorepacific were early innovators in the development of nanotech-based beauty products, a great deal of new innovation in the field comes from companies that one would not traditionally associate with the cosmetics industry, including Fujifilm and BASF. Of 367 unique inventions filed in 2009, 10 were by Fujifilm; 9 were by BASF and 7 were by Amorepacific.
"Nano" Trademarks: From 2000 through the end of 2009, a total of 217 personal-care brands that incorporate the term "nano" were trademarked in the United States, United Kingdom, Canada, European Community and WIPO; the second half of that period (2005 – 2009) had 57.5% more registered marks than the first half (2000 – 2004)
© Thomson Reuters 2023 All rights reserved.