Muslim-inspired fashion flaunted in Russia's Chechnya
GROZNY, Russia (Reuters Life!) - Models in floor-length gowns of crimson and gold, their heads downturned and framed by hijabs, showed off Eastern-inspired designs on Tuesday 27 April to the elite of Chechnya, where Moscow is battling Islamist extremism.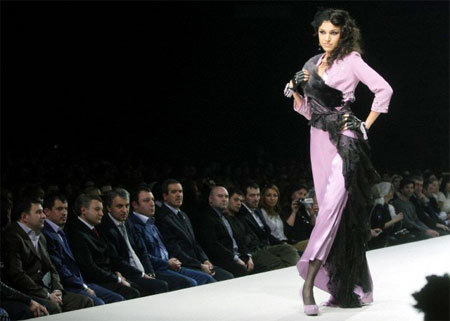 A model wears Laura and Medni at Moscow Fashion Week
Heavily embroidered silk and satin frocks make up the second collection by the Arzhiyeva sisters, who have been charged by the local government to create traditional Chechen dress in the Muslim republic, which has fought two separatist wars with Moscow since the mid-1990s.
"We tried to incorporate Islamic dress standards into our collection, suited for the women of the Caucasus and the East," Laura Arzhiyeva, half of the sibling designer duo, told Reuters.
Launched in October, their design house is the pet project of Medni Kadyrova, the wife of Chechnya's firebrand Moscow-backed leader Ramzan Kadyrov.
Credited by the Kremlin for rebuilding the war-ravaged province and hunting out Islamist fighters, political analysts say Moscow turns a blind eye to Kadyrov's Muslim-inspired rules and heavy-handed leadership.
Islam is flourishing in Chechnya which, along with its neighbours Dagestan and Ingushetia, is combating an Islamist insurgency which aims to create a Muslim, sharia-based state separate from Russia across the North Caucasus.
Perched on the front row, Kadyrov and his wife enthusiastically clapped as 25 dark-haired Chechen models paraded the flowing dresses which completely cover the arms and are pinched at the waist with shimmering cords. They sell for $3,000 a piece in Grozny's most luxurious boutique.
"To find something modest amongst European clothes shops is so difficult, this is refreshing," said Mizana Aliyeva, 28, one of 700 guests at the show, entitled "You are in heaven".
While both Kadyrov and the insurgents claim Islam as their flag of legitimacy, each reviles other as blasphemous. However in today's Chechnya alcohol is all but banned, single-sex schools and gyms are becoming the norm and women must cover their heads in government buildings.
"It is great that in our republic... trends correspond to our unique culture," said Iman Isayeva, 35, as she gazed at a grouping of girls priming their headscarves and lipgloss in front of mirrors decorated with Chechen flags.
© Thomson Reuters 2023 All rights reserved.