Much-loved Paris shopping shrine to become hotel
May 20 - Say "La Samaritaine" in this city and shopping-mad Parisians will wax nostalgic about a beloved department store which once boasted it had "everything".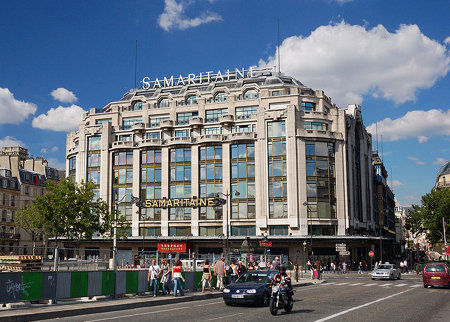 "La Samaritaine" department store in Paris (photo by Pierre Camateros)
Now, the monument to retail therapy on the right bank of the Seine which has been closed since 2005, is set to undergo a three-year, 450 million euro ($641.9 million) redesign that will transform it into a luxury hotel, with adjacent buildings housing offices, public apartments, and of course, shops.
With an Art Deco facade and its name proudly displayed in big block letters, La Samaritaine was the most egalitarian of the "grand magasins," or opulent department stores in the French capital, featuring a huge variety of goods for sale from flowers and bathing suits, to candies and hats.
Its doors closed in 2005, however, after the building fell afoul of safety codes and years of wrangling ensued between its current owner, luxury-goods conglomerate LVMH, the city of Paris and the heirs to La Samaritaine's founders.
But the wrangling appears over, the new project has received the green light and construction should begin in early 2012, with a completion date targeted for mid-2014.
Despite the blueprint that promises to restore a Paris landmark building to its full glory, many feel a pang that it will no longer house France's most famous department store
"It's over, and it's really too bad because you could find everything there," said 88-year-old Genevieve Cotty, who remembers visiting the store with her grandparents before World War II. "They had flowers, tombstones, hardware, furniture. It was really historic."
Its name taken from the water pump at the Pont Neuf in the time of Henry IV, La Samaritaine sits on some of the most prestigious real estate in Paris, close to both the Louvre and Notre Dame and fronting the Seine.
Shoppers remember the young bellboys at the top of every escalator landing announcing what could be found on every floor, the sugared violet candies popular with children, and the large street windows which were lit up and animated every Christmas.
Tourists would flock to La Samaritaine, take the elevator to the top floor and climb a narrow stairway to the roof, for some of the best views across the Paris skyline.
And any French shopper rich and poor could find something to buy at La Samaritaine, which offered goods at a range of prices.
"There's nothing to compare with the supermarkets of today, it's just not the same," said Cotty, whose mother bought new furniture at the store after their home was bombed in the war.
LARGEST-EVER PROJECT
The 70,000-sq metre (753,470-sq feet) project is comprised of not only the historic La Samaritaine building, but three adjacent properties, which will house offices, shops, some 95 apartments and a nursery.
Some 2,500 jobs will be created, LVMH said.
It is the largest privately funded construction project ever undertaken in Paris, according to LVMH finance chief Jean-Jacques Guiony.
An earlier plan for the project had been rejected by the city of Paris for what it deemed insufficient public housing.
The historic building that fronts the Seine will be renovated and turned into a luxury hotel, "Cheval Blanc" (White Horse), but its facade will remain unchanged. The hotel will offer about 80 rooms and suites.
For the building behind the hotel, Japanese architecture firm Sanaa, which worked on the New Museum of Contemporary Art in New York, envisions an undulating glass wall with silk screens covering the offices within.
"This project will be the symbol of a continuity between the history of Parisians and the modern world," said Guiony.
(Additional reporting by Pascale Denis, editing by Paul Casciato)
© Thomson Reuters 2023 All rights reserved.