Moscow fashionistas say city back in the groove
By Amie Ferris-Rotman
MOSCOW (Reuters Life!) - International designers and stars descended on Moscow on Thursday (10 September) night, oozing confidence that the glitzy Russian capital famed for its love of excess had got back its groove.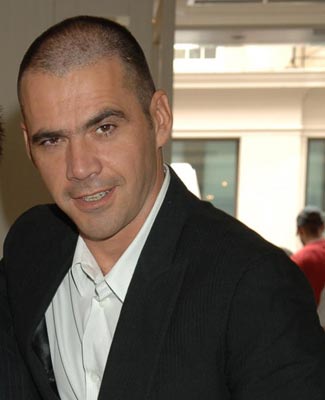 Roland Mouret
Russia's love affair with fashion, from home-grown designers to its thirst for luxury abroad, took a severe blow earlier this year as the recession bit into all strata of society, forcing sales to plummet and boutiques to board up their windows.
"Everything is coming back and it's great," French designer Roland Mouret, famed for his geometric women's dresses, told Reuters. Mouret met around a dozen Russian designers for Vogue's fashion night, celebrated on Thursday 10 September around the globe.
Later, dressed in a white suit jacket and dark jeans, Mouret joined Moscow's stilettoed, champagne-quaffing elite on cobbled Stoleshnikov Pereulok, Moscow's answer to London's Bond Street.
British model Naomi Campbell, who spends part of the year in Moscow with Russian boyfriend and property mogul Vladimir Doronin, hid from the photographers' glare as she swooped up Mouret's designs and a grey snakeskin clutch.
In unusually warm September weather, scantily clad Muscovites swung on Dali-like red lip couches in the middle of the street while DJs blasted music.
Nearby, Moscow's prestigious department store Tsum, which is housed in a grey turn-of-the-century stone building, launched an entire floor dedicated to Russian designers.
Russian Vogue Editor Alyona Doletskaya, her blonde fringe hanging gently over one eye, said the idea, inspired by stores such as London's Harvey Nichols which has sections for British designers, shows Russia is back.
"This will send a lot of confidence to Russian designers and put them on the map," said Doletskaya, in haute couture pearls and diamonds and a sleek grey silk Narciso Rodriguez dress.
"In difficult times, loyal friends get together."
REAL RECOVERY?
Earlier this week senior Russian officials said they are ready to start thinking about post-crisis strategies as small signs of recovery emerge.
Designers echoed the optimism: "The fall of the spring is over. Next year should see a boost," Russia's Igor Chapurin said, adding that he will launch a male line in 2010.
"I really feel like now is a turning point," said British shoe designer Nicholas Kirkwood, whose second biggest market as a city is Moscow, after London.
But behind the bejewelled glass of some boutiques, a stark reality drowned out the optimism.
In Russian designer Denis Simachev's red and yellow store, flanked by Western luxury houses, his new line was selling at reduced prices, salesmen said.
Embroidered t-shirts of purple parrots and huskies, with English words written in Cyrillic, were going for 10,000 roubles ($325.5) a piece, almost half of what they would be pre-crisis.
Finance manager Masha, 36, perusing Simachev's reduced price scarves and belts, said she feels Russians are still tightening their belts.
"It will take a while before we can shop again with the passion we had developed after the Soviet Union's collapse."
(Reporting by Amie Ferris-Rotman, editing by Paul Casciato)
© Thomson Reuters 2023 All rights reserved.