Mongolia's tent cities become permanent fixtures
By Lucy Hornby
ULAN BATOR (Reuters) - Creeping up over the dry hills, the shanty towns of Ulan Bator mark the ever-spreading line where the city meets the Mongolian steppes.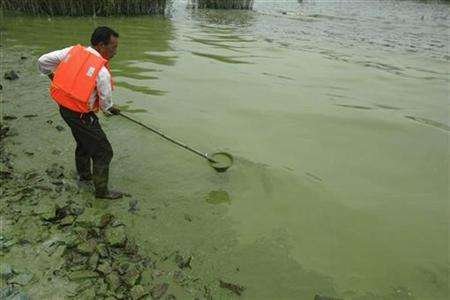 Known as "ger-towns," these impromptu suburbs of dirt roads and stockade fences get their name from the "gers," the traditional white tents of the nomadic Mongol people, which newcomers to Ulan Batur pitch on land plots around the capital.
The tents are a sign that Mongolia's nomadic heritage has a modern use. They are also daily evidence that Ulan Bator's creaky infrastructure is struggling to keep up with the expanding city.
Flush from a boom in coal and copper prices, the government is seeking to extend utility services to the ger-towns, home to about half of Ulan Bator's one million people.
Oyunchimeg's home in a ger-town on a steep hill is only about 10 minutes drive from the apartment blocks and power plants of Ulan Bator. But until recently Oyunchimeg and her neighbors had to fend for themselves.
"Even the road here we paid for by ourselves, the people who run the mini-mart put that in," said Oyunchimeg, whose family runs a trucking business from their plot, where they have lived for two decades.
"We'd like piped water, it's been promised for 10 years but where is it?" she asked.
A ger-town is born as a small string of traditional ger tents on a grassy hillside.
Fences are gradually built to surround each tent. Then a latrine is erected, then a wooden house. Convenience stores and schools follow.
Water trucks roam the streets. When they stop, kids run up to the trucks to fill jerry cans that they carry home.
The homes are heated with small coal burners, adding to the thick smog that blankets Ulan Bator in the winter.
City dwellers blame vagrancy, night crimes and well-stocked shelves of vodka in local stores for ger-towns high rate of unemployment.
But in a country where the average age is 25, ger-towns are also the only place where many young couples can afford a home of their own.
"We moved out here because we wanted more room to build a bigger house," said one young mother, as her 7-year-old daughter sold sodas from a stand in a bare dirt yard.
REAL ESTATE
Booming prices for Mongolia's exports, such as copper and coal, have ended years of economic stagnation in the landlocked country of 2.8 million people.
Electricity use has only this year returned to its record 1989 level, according to the Ministry of Fuel and Energy, as residential consumption growth slowly makes up for the collapse of industrial demand.
The industrial sector was hit hard when many state-owned enterprises failed at the end of the Soviet era. More recently, Chinese competition has wiped out the textile sector.
Mongolia's government plans to use some of the cash to fund a broad housing initiative.
Under the plan, it would build 15,000 new homes, renovate 15,000 existing apartments and extend city services -- including heat and water -- to 10,000 residences in the ger-towns.
The central bank is also trying to develop a secondary mortgage market to stimulate the financial sector and bring down high interest rates that often mean young couples start out living in tents.
Interest rates are now well over 20 percent on an annual basis. Individuals and small businesses find it hard to get loans.
"Right now down-payments are 25 percent to 30 percent, and a five-to-seven-year mortgage is the maximum. But the system could look very different in two to three years," central bank governor Chuluunbat said in an interview in September.
Most of Ulan Bator could use the face lift.
Worn but elegant Russian buildings near the central square quickly give way to apartment blocks and high rises of varying modernity, many run-down and some abandoned.
On a sunny autumn day, the more established ger-towns give an impression of order and respectability.
"When I first came here I too was dismayed by the dust and the dirt roads," said a woman who lives in the ger-town.
"But it's actually not that bad."
© Thomson Reuters 2022 All rights reserved.