Model Christensen behind the lens for fashion firm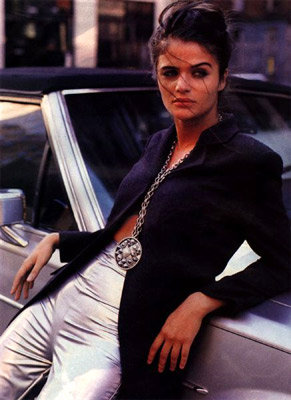 www.helena-christensen.com
By Karin Jensen
COPENHAGEN, Aug 11 (Reuters Life!) - Danish supermodel Helena Christensen, who likes to spend time behind and in front of the camera, says she has been asked by Swedish fashion firm Odd Molly to be the photographer for its next campaign. Christensen was among the celebrities attending the world premiere on Friday of Odd Molly's spring/summer 2009 collection at Copenhagen Fashion Week, including the newest member of Denmark's royal family, Princess Marie.
Christensen, who has staged exhibitions of her photographic work and whose pictures have appeared in glossy magazines, is Odd Molly's model for the latest campaign and plans to swap roles for the next one.
"They have asked if I would like to do that next time so I'll be doing that next year," she told Reuters after the show.
Odd Molly's quirky, Bohemian flavour has an ardent admirer in Christensen. "It's something I can identify myself with. I have a style which is very similar to theirs," she said.
The French-born Princess Marie, who married Denmark's Prince Joachim in May, also appears to be a fan -- the Odd Molly show at Copenhagen's Hotel d'Angleterre was the only one she attended during the fashion week.
(Reporting by Karin Jensen, editing by Paul Casciato)
© Thomson Reuters 2023 All rights reserved.