Milan strides past New York as world's fashion capital
SYDNEY (Reuters Life!) - Milan has ended New York's five-year reign as the world's top fashion city, while Hong Kong and Sao Paulo have sashayed into the top 10, according to an annual survey of top fashion cities.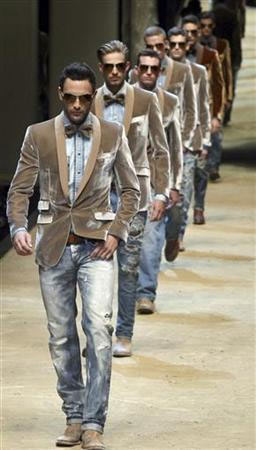 Models parade at the end of D & G Spring/Summer 2010 men's collection during Milan Fashion Week - Photo: REUTERS/Stefano Rellandini
The list was compiled by the Global Language Monitor, a U.S. based non-profit group that tracks the frequency of words and phrases in the media, on the Internet and throughout the blogosphere.
The world of fashion is dominated by five cities -- New York, Rome, Paris, Milan and London -- but New York had led the list for five consecutive years.
This year, however, Milan took the top slot followed by New York, Paris, Rome and London.
Other big movers included Hong Kong and Sao Paulo, which broke into the top 10, while Barcelona and Miami surged.
In a tightening battle for fashion kudos in Asia, Mumbai outdistanced Delhi. In Australia, Sydney outpaced Melbourne.
"The global economic restructuring has affected the fashion industry just as it has touched everything else," said Millie Lorenzo Payack, a director at the Global Language Monitor.
"The catwalks were still crowded though with the lights dimmer, the hype a bit more restrained, and recessionists, of course, thriving."
Following is the list of the top 20 fashion cities with the previous year's ranking in brackets:
1. Milan (4)
2. New York (1)
3. Paris (3)
4. Rome (2)
5. London (5)
6. Los Angeles (6)
7. Hong Kong (11)
8. Sao Paulo (33)
9. Sydney (7)
10. Las Vegas (8)
11. Dubai (12)
12. Tokyo (10)
13. Miami (26)
14. Barcelona (25)
15. Shanghai (13)
16. Mumbai (21)
17. New Delhi (24)
18. Rio de Janiero (30)
19. Berlin (9)
20. Singapore (14)
(Reporting by Belinda Goldsmith, Editing by Miral Fahmy)
© Thomson Reuters 2022 All rights reserved.