Milan shows colorful, firm spring man
By Marie-Louise Gumuchian
MILAN (Reuters) - From soft suits to sporty leisure wear, designers at Milan's fashion week sought more to reassure rather than provoke with easy, familiar styles and vibrant colors for men next spring.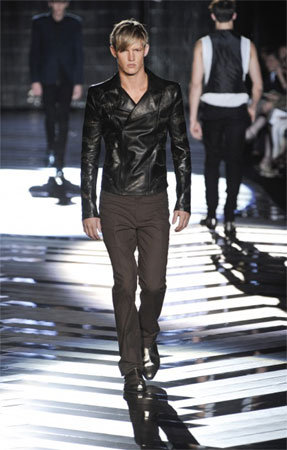 Robert Cavalli, Spring-Summer 2010, Milan
The trend at the spring/summer 2010 menswear shows -- which ended on Tuesday 23 June -- was for a mix of tailoring and dressed down, with roomy bags and sportswear shoes evoking a travel theme.
A neat and firm silhouette was evident -- shoulders were defined, while waists and trousers were slim at Gianfranco Ferre and Roberto Cavalli. Bottega Veneta had V-shape trousers -- full on top and narrow below -- with crisp shirts and jackets.
Trousers, usually slim, were to the ankle.
As the warm season brings out more skin, several top names made sure to show off men's bodies -- with revealing vests at Cavalli and open tops tucked into tiny tight swimming trunks at Dolce & Gabbana, also seen at Versace.
Not known as one to go with trends, Miuccia Prada cut out the color seen elsewhere and stuck to greys, black and white for an urban collection shown against a monochrome backdrop.
Prada presented knit waistcoats or armless buttoned gilets over armless collarless shifts of shirts. Tops, some in a flexible wetlook fabric, had holes. Trousers with tiny black and white checks or tweed-like narrowed at the ankle.
"I wanted it to be contemporary, wearable," she said.
The theme was also urban at Emporio Armani -- for which designer Giorgio Armani got a standing ovation from some of the crowd. Armani, looking to city connections, presented suits in cool shades of grey with a fitted cut and defined shoulders and trousers with small darts at the front and turn-ups.
"It is city smart but also comfortable," Armani said in show notes. He also turned to Asia with jackets in techno mesh and put in dabs of orange on jackets, fleeces and accessories.
For his Giorgio Armani line, he went for classicism -- suits were chequered or striped, shirts had oversized patterns.
HERE COME THE MEN IN WHITE
Armani also put out white suits with sky blue patterned tops. White was also evident at Salvatore Ferragamo and Ferre which had a "free and easy yet ever impeccable mood."
Versace and Gucci, whose mood was "resolutely optimistic," started their shows with men dressed in white or pale creams.
Versace also showed comfort with unbuttoned tunics and safari-like jackets, also seen at Ermenegildo Zegna and Ferre which had sparkly tops underneath.
Reds also featured -- from fiery red for Gucci evening suits to a mainly bright red and black line of suits, tops and trousers from Dirk Bikkembergs. Bottega Veneta had a mix of red tones -- purple, red and orange with tie-dye patterns on striped jackets.
"Men are looking for excitement in fashion," Bottega Veneta Creative Director Tomas Maier said.
Earthy tones were also seen at Salvatore Ferragamo.
Burberry's Christopher Bailey took outerwear from dark to pastel colors, which he said was like starting with rain and ending with sunshine, an analogy of the tough economic climate.
He chose a softer shoulder on suiting, worn with crew necks and knits that had straps. Cavalli also splashed pink, yellow and green on tops, trousers and shiny shoes.
Denim featured heavily -- ripped all the way down at Dolce & Gabbana and the key material for the D&G "Brit Cowboy" line -- in jeans, shirts and patchwork prints, at times embroidered with shiny studs. The designer duo mixed denim with velvet jackets, ties and bowties and suede or leather boots.
Denim was dark at Armani and teamed with a tuxedo at Bottega Veneta. Embroidery took center stage at Dolce & Gabbana who had sparkling beaded evening wear. Cavalli put embroidery on jackets and trousers, some of which had tops that were folded over hips.
"You have to fight the crisis with creativity, with the best materials," Cavalli said.
For accessories, bags came in all shapes and sizes while shoes were mainly rounded or had raised tops when it came to sneakers. Designers also played with plastic sunglasses.
(Additional reporting by Jo Winterbottom, editing by Paul Casciato)
© Thomson Reuters 2023 All rights reserved.