Milan menswear opens out, in anniversary mood
Designers such as Italian duo Dolce & Gabbana and Belgian Dirk Bikkembergs are hoping to lure crisis-hit shoppers back by staging fashion events in Milan's most popular squares.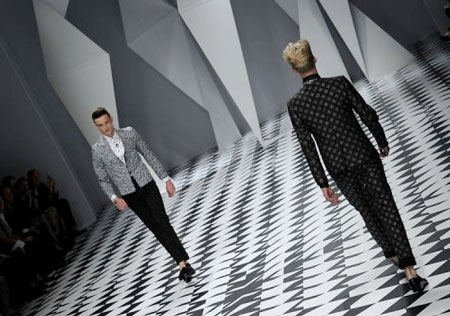 Versace SS 2011 / Photo : AFP
Male models and celebrities strut catwalks and red carpets in more than 30 shows and dozens of showroom collections during the Milan spring/summer 2011 fashion week, which runs until Tuesday and takes place amid timid signs of economic recovery.
Sales of tailored suits, ties and leather shoes declined by 11.3 percent to 8 billion euros ($9.91 billion) in 2009, one of the worst years ever for Italian menswear, said Sistema Moda Italia, a body representing Italy's clothing and textile industry.
However, wealthy spenders were back in the shops in the first months of the year and should help raise global luxury sales by more than 4 percent in 2010, according to U.S. consultancy Bain and Co.
"This edition will be particularly important to assess the pace of recovery, which is certainly under way, but whose vigour has to be strengthened," Mario Boselli, president of Italy's National Chamber of Fashion, said in a statement.
The image of Italy's fashion capital, competing with cities such as London, Paris and New York, will enjoy a boost from significant anniversaries marked by Ermenegildo Zegna and Dolce & Gabbana.
However, a shadow was cast over the shows by the death of a catwalk model, 22-year-old Frenchman Tom Nicon, whose body was found in the courtyard of a building in central Milan on Friday. Police said they were investigating.
GLAMOUR AND TRADITION
Dolce & Gabbana celebrated the 20th anniversary of their menswear line with an exhibition at the City Hall, in front of La Scala opera house.
"We want as many people as possible at our exhibition, we want Mr Brambilla (a typical Milanese name) to come and see our history," Domenico Dolce told a joint news conference with Milan's Mayor Letizia Moratti on Friday.
Glamour and tradition mingled at the duo's celebratory show, with extra-light washed silk jackets and sweaters in woven jute inspired by Sicilian sensuality.
Models in classic and traditional summertime suits cheered a performance by British singer Annie Lennox and Hollywood was represented by stars such as Rachel Weisz, Morgan Freeman and Matthew McConaughey.
Zegna, which celebrates its 100th birthday this year, hosts an exhibition on the importance of style.
In an unofficial kickoff on Friday, Bikkembergs showed on a big screen in central Duomo Square, a popular tourist spot, its South Africa-inspired "sport couture" collection.
The fashion industry, with an annual turnover of about 100 billion euros, is central to Italy's economy.
Turnover for the sector fell by 15 percent last year to 56.5 billion euros. An improvement is forecast for this year.
(Additional reporting by Ilaria Polleschi, Editing by Paul Casciato and Andrew Dobbie)
(([email protected]; +39 0266129722; Reuters Messaging: [email protected]))
($1=.8076 Euro) Keywords: ITALY FASHION/
(C) Reuters 2010. All rights reserved. Republication or redistribution ofReuters content, including by caching, framing or similar means, is expresslyprohibited without the prior written consent of Reuters. Reuters and the Reuterssphere logo are registered trademarks and trademarks of the Reuters group ofcompanies around the world.nLDE65I0ES
© Thomson Reuters 2023 All rights reserved.