Milan menswear opens challenging 2011 season
Jan 15 - Milan's menswear week kicked off the 2011 fashion season on Saturday, with designers Roberto Cavalli and Dolce & Gabbana among the first major Italian names to show what they have in store for next winter.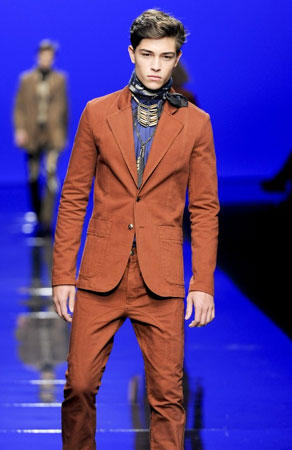 Roberto Cavalli at Milan Fashion Week 2011
Fashion houses are bracing for a challenging year after recovering from the worst slump in decades, with analysts predicting demand for tailored suits and ties to remain flat.
"There are signs pointing towards stability in 2011," Sistema Moda Italia, a body representing Italy's clothing and textile industry, said in a statement.
Turnover for the Italian menswear was stable at around 8.3 billion euros in 2010, SMI said.
"Fashion houses have an imperative: to grow, grow and grow," Armando Branchini, secretary of Italy's luxury industry body Altagamma, told Reuters.
The luxury industry's growth is expected to moderate to 3-5 percent in 2011 after a 10 percent rebound last year, but currency fluctuations could hamper tourist flows, U.S. consultancy Bain & Co said.
Branchini said he expected fashion houses to open more monobrand stores to boost sales in emerging markets, as well as increase their offer of casual wear.
"Upper sportswear is on the rise, as shown by several top businessmen around the world," fashion expert Branchini said.
"Let's just think about (Fiat's Chief Executive) Sergio Marchionne, a trend-setter with his (trademark) blue sweater," he said.
Chinese tourists will continue to strut the narrow streets of Italy's fashion capital, he said, likely overtaking Russians as the biggest luxury spenders in Italy in the coming years.
Thousands of journalists and buyers have descended on Milan for just under 40 catwalk shows taking place until Tuesday.
Saturday's shows kick off with Ermenegildo Zegna, Dolce & Gabbana, Burberry and Roberto Cavalli.
The fashion industry is a key driver for Italy's economic growth. Turnover for the sector rose 6.5 percent to around 60 billion euros in 2010, according to Italy's Chamber of Fashion.
An improvement is forecast for the first half of this year, with sales expected to cool down after the summer season.
By Antonella Ciancio
(Editing by Paul Casciato)
© Thomson Reuters 2022 All rights reserved.