Milan designers go simple to woo crunched buyers
MILAN, Sept 29 (Reuters) - Luxury brands appear so far to be weathering much of the current credit crunch but with consumers becoming more cautious designers are sticking with simple go-anywhere clothes and counting on accessories to tempt buyers.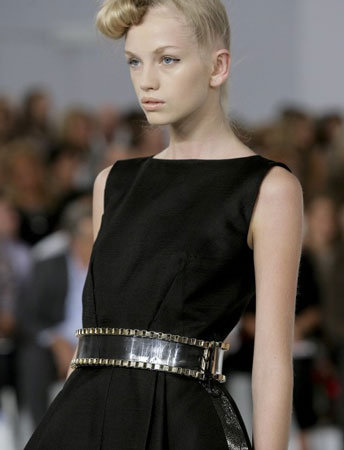 Gianfranco Ferre, Fashion Show in Milan, spring-summer 2009. Photo : PixelFormula
"The catwalks are beginning to show the signs of the impact of the crisis ... collections don't take risks any more, they are ... safe collections," Paola Pollo, fashion critic at Corriere della Sera newspaper told Reuters.
Gucci Group Chief Executive Robert Polet told La Repubblica newspaper that people were showing more caution in spending -- although Gucci Group, owned by PPR , still turned in a 13 percent rise in recurring operating profit in the first half.
"If a 'big spender' previously wanted to buy four handbags, now maybe they are purchasing just three," he said.
Last week in Milan designers focused on simple clothes that could be worn for a range of occasions along with plenty of costume jewellery, bags and scarves for the smaller budget.
"Designers are trying to simplify to bring a sellable product ... a product that will outlast the crisis," Pollo said.
Giorgio Armani turned out classic lines while labels such as Gianfranco Ferre, Burberry, Versace and Bottega Veneta all also had simple styles.
Tommaso Aquilano and Roberto Rimondi, the new design team at Gianfranco Ferre which is owned by IT Holding , said all their clothes were uncomplicated.
"They are for a way of dressing quickly, which is very modern," Rimondi said.
SPLASHING OUT, BUYING BANGLES
At the same time, there was glamour for clients who wanted to dispel the clouds.
"In challenging times, our customer wants something super pretty, super feminine," Ken Downing, fashion director at U.S. upscale department store chain Neiman Marcus, told Reuters.
"It's a very dressed up spirit. Dressed down doesn't feel right for the times," he added.
Evening gowns at many labels had that feeling. Dolce & Gabbana showered pale pink blossoms over huge skirts on dresses that looked as if the models were wrapped in rambling roses.
But these kind of frocks cost a small fortune -- Armani Collezioni evening gowns sell at Bergdorf Goodman's online store for around $2,200.
So designers in Milan made sure there were more affordable items in their collections such as semi-precious jewellery and other accessories, continuing a recent trend.
Burberry, which presented its womenswear collection in Milan last week, boosted accessory sales 37 percent in the year ending March 31, 2008 while womenswear turnover grew 12.9 percent.
Designers from Gucci to Dolce & Gabbana, from Giorgio Armani to Mariella Burani all showed big necklaces, dangling earrings and handfuls of bangles and bracelets.
On Bergdorf Goodman's site Dolce & Gabbana necklaces retail for around $195, while bracelets on the website of British label Burberry start at about 115 pounds ($207.3).
The head of designer Gianfranco Ferre said shoes and bijouterie were doing better than bags.
"One thousand euros isn't enough to buy a famous brand bag but you can have luxury shoes for 350-400 euros," Ferre Chief Executive Michela Piva told Il Sole 24 Ore newspaper last week.

By Jo Winterbottom
(additional reporting by Marie-Louise Gumuchian; editing by Sophie Walker)
© Thomson Reuters 2023 All rights reserved.