Milan catwalks go for short but demure womenswear
By Jo Winterbottom and Marie-Louise Gumuchian
MILAN (Reuters Life!) - Designers at Milan fashion week preferred the demure to the provocative in womenswear collections for next spring, with some names sticking to their roots and what they are best known for to woo crunched buyers.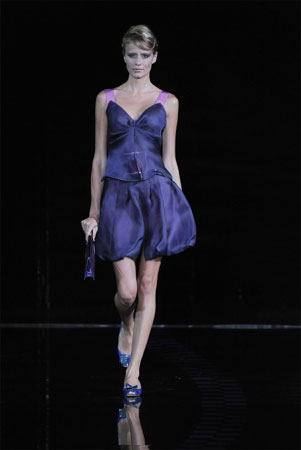 Giorgio Armani spring-summer 2010 in Milan - Photo: Pixel Formula
As the warm season brings out more of the skin, designers in Italy's fashion capital made sure to show off the flesh with bare backs, one-shouldered outfits and high hemlines -- from small dresses and skirts to 1950s-style high-waisted culottes.
Giorgio Armani, known for his classically elegant lines -- looked to body art for his spring/summer 2010 collection, using linear cuts to show off bare shoulders and legs.
He sent out models in short dresses -- for both day and night -- and slit skirts that revealed shorts. Rounded-shoulder jackets were paired with loose ankle-length trousers. All models wore flat shoes, a rarity on the catwalk.
Miuccia Prada continued with her deconstruction theme -- grey silk jackets were stitched together at different lengths and white knickers peeped out from baggy boxing champion shorts. She threw a net of chandelier drop glass beads over a white mini shift to emphasize a contemporary and nostalgic feel.
"I enjoyed myself so much (with this line). It's imaginary corridors, hotels," she said. "I think it's very sellable."
Donatella Versace, inspired by Tim Burton's film "Alice in Wonderland" presented a collection fashionistas said recalled the lively spirit of her late brother Gianni Versace.
She used candy pink and acid green for slinky print mini dresses and mixed stretchy knit tight-fitting tops with skirts covered in metallic triangle patches. Cream leather was worked into pleats and then stamped with rivet-like emblems. Chiffon versions of the prints in floaty folds came out for the evening.
TOWERING HEELS
Dolce & Gabbana went Mediterranean, with matador trousers with wide jodphur hips, cropped black jackets and flat shoes. Dresses had a variety of lace from sheer to sultry, sometimes mixing weights and using tassles straight from a senora's shawl.
Models wore high-cut corset-like swimsuits -- with bold black and gold panels or a rose print mixed with lace.
Roberto Cavalli had a soft look and colors stuck to an emerging theme -- creams, pale pinks, ivory, magnolia and grey.
Dresses had shirt lapel necks and flowed into pretty, cutaway chiffon dresses sprinkled with tiny flower prints and were worn over pinstripe narrow trousers.
Gucci's Frida Giannini broke with the overall mood to mix athletics and aesthetics, with cinched and laced outfits with rubber or metallic clasps. Models wore white short dresses or trousers and jackets spliced with rubber lacing or closed with zips.
Tomas Maier at Bottega Veneta stuck to mainly white silk or linen tunics, dresses and trousers with material draped or asymmetrically cut. He added green and violet belts.
"I was inspired by a kid's karate class. Colored belts for different grades and the whole canvas and beach colors," he said. His bright evening gown evoked pure glamour.
At Salvatore Ferragamo, jodphur and riding coats set the tone with its trademark silk prints keeping a low profile.
Tommaso Aquilano and Roberto Rimondi at Gianfranco Ferre paid homage to the house's late founder with strong tailoring on silk trousers and asymmetric cut layers on dresses and skirts. The brand's symbolic safety pin emblem returned to prominence.
Like at other shows where towering heels reigned supreme, Ferre shoes sported crucifix heels. Heels were also high at Versace and Gucci whose version had wide leather ankle bands and criss-cross strap fronts. At Frankie Morello -- where the theme was horse riding, some shoes had horse-like tails at the back.
Its woman for next spring has banished black so as to not focus too much on "today's gloomy situation," a show note said.
(Editing by Paul Casciato)
© Thomson Reuters 2023 All rights reserved.