Menswear fuels global luxury boom, executives say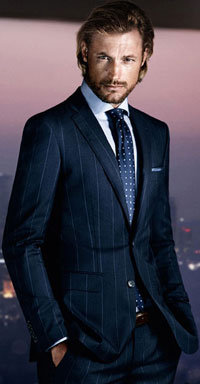 Hugo Boss's Boss Selection Summer 2012 menswear line / Photo: Hugo Boss
NEW YORK - Whether it's a desire to be as dapper as Don Draper on television's "Mad Men," a need to look good for a job interview or just a hankering for new duds, men have increased their spending on fancy clothes, and executives expect the boom to continue.
German fashion house Hugo Boss AG, which generates the vast majority of its sales from menswear, is targeting sales gains of 50 percent to 3 billion euros by 2015, helped by a cultural shift around the world that has led more men to be interested in fashion and invest in their appearance.
"Men are just waking up to the beauty of being dressed well," Hugo Boss Chief Executive Claus-Dietrich Lahrs told Reuters on the sidelines of the Fairchild Fashion Media Men's Wear Summit in New York on Thursday.
The global luxury menswear market is growing at about 14 percent a year, or nearly double the pace of luxury women's wear, according to consulting firm Bain & Co.
With demand in Europe cooling because of a slow economy and questions about whether the Chinese luxury market can keep up its torrid pace of growth, many retailers are betting on - and benefiting from - a luxury boom in the United States.
Alfred Dunhill, a British men's chain owned by Swiss luxury goods group Richemont, operates three U.S. stores and aims to add five more within two years.
"We look at America as a bit of an unpicked fruit," Dunhill CEO Christopher Colfer told Reuters this week. "There's a resurgence of man and our willingness to make ourselves look nice."
Hugo Boss's U.S. plans include expansion of its flagship store in Manhattan's Columbus Circle, Lahrs said.
Everything from the sharp 1960's styles on shows such as "Mad Men" - a popular drama about a New York advertising agency - to the proliferation of fashion blogs have ignited men's interest in fashion and nicer clothes, executives say.
"Those shows are having an influence on the way guys are dressing," said Matthew Singer, men's fashion director at Neiman Marcus Group. Men are also less shy about buying accessories such as bracelets and scarves, he said.
Saks Fifth Avenue has expanded its men's private brand collection and this week CEO Steve Sadove told investors that it will probably be Saks' largest men's brand this year.
Coach Inc is also banking on more business from men. Globally, Coach expects sales of men's products this year to reach $400 million, or 8 percent of total sales, and climb to $1 billion within a few years.
For the New York-based leather goods maker, it is sort of a return to its roots: Coach started in 1941 as a men's business. In 1997, men's goods still accounted for 25 percent of sales.
Men have also been fueling luxury sales in China, the fastest growing luxury market, despite a recent slowdown in the pace of growth there.
Trinity Ltd, a leading high-end menswear retailer in China, said same-store sales rose 19.5 percent last year, and that it eventually plans to operate 500 stores in greater China, up from about 370 now.
"Men do not shop that often, do not buy a lot but they are consistent. Men are very loyal to brands," Trinity group managing director Sunny Wong told Reuters this week.
Even outside of the pricey luxury market, men in the United States are spending more on clothes.
American men increased their spending on clothing more than women did in 2011, buying more dress clothes in particular as the economy improves, a study showed.
Men's clothing sales rose 4 percent during the year, while women's grew 3 percent, market researcher the NPD Group said on Thursday.
© Thomson Reuters 2023 All rights reserved.