Menswear creeps up on Fashion Week's center stage
NEW YORK - Menswear, the perennial poor relation of women's high fashion, is staking a larger claim on the lucrative fashion stage, as retailers tap a growing men's clothing market and runways in New York reflect American men's rising interest in high fashion.
Tommy Hilfiger Men - AW 2012/13 / Photo: Pixel Formula
Never in the vanguard of U.S. fashion, menswear is striving to catch up, say fashion experts taking stock of the collections showing at New York's Fashion Week which runs through Thursday.
With the luxury menswear market growing at about 14 percent a year, or nearly double that of luxury womenswear, according to consultancy Bain & Co., the financial stakes are high.
"High fashion menswear used to be a bit of a joke, but it's becoming a genuine influence. It's beginning to duplicate women's wear," said David Wolfe, creative director of retail consultants Donegar Group.
A demographic that was once "style conscious young men and very label conscious," is "now grown up, and bringing that same style sensitivity and label snobbery as adults," Wolfe said.
Tom Julian, author and retail trends expert, noted growth in the expanding $50 billion-plus menswear arena for clothing such as jeans, knits and accessories.
Julian cited major retailers like Saks adding a denim room, and Ralph Lauren's new Rugby concept.
"There is more interest in tailoring touches for sportswear," he noted. Accordingly, "casual has shifted beyond what was -- khakis and button-downs. Unstructured or knit jackets, sweater jackets and the like allow for layering and individualizing."
The collections at New York's Fashion Week, when hundreds of designers show both men's and women's fall lines, bore that out.
And like the women's shows, some of which displayed hallmarks of popular 1920s-era films like "The Artist" and "Midnight in Paris," menswear took a page from the popular "Downton Abbey" British TV series, set on the eve of the 20s, with heavy use of cord, velvet and grosgrain trims and round-collar shirts.
DRESSED-UP CASUAL
Wolfe characterized the looks as "much more well-behaved than 'rebel rocker,'" while Julian noted that "men have embraced color in unexpected ways -- a bright colored check shirt, the colored chinos, the colored shoes."
"Many men today like the idea of taking a tailored item like a blazer or a necktie and making it less formal to play into their look," Julian noted.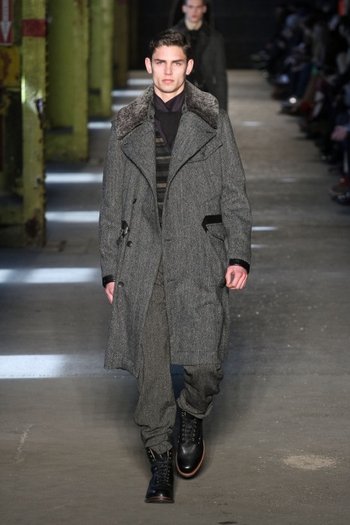 Rag & Bone Men - AW 2012/13 / Photo: Pixel Formula
Tommy Hilfiger's ambitious show on Friday reflected trends seen throughout the week: quilted sleeves and vests, lots of narrow horizontal stripes, high-collared doubled breasted coats topping striped vertiginous turtlenecks.
While Hilfiger showed a lot of leather, it was softer, nonthreatening and decidedly non-biker. Unstructured jackets suggested English schoolboys, while colors included dark rose, grays, mustard, teal and lots of plummy reds.
John Bartlett, who once hewed closely to militaristic influences, showed plaid vests, checked pants that suggested pajamas and blanket coats that paid homage to LL Bean's Hudson Bay classic. Even his motorcycle and racing jackets revealed softer, less-structured tailoring. Splashes of yellow and orange livened the looks even more.
Plaids and checks also figured highly at Duckie Brown's show, which made heavy use of textured gray and charcoal fabrics including tweeds. Crocheted sleeveless tops typified many of the relatively un-macho looks.
Richard Chai's show meanwhile was dominated by denim and blue work clothes, featuring car coats and separates in a range of somber tones of gray, black and charcoal.
"Even affluent men are questioning whether fashion is the best use of their money," noted Candace Corlett, president of retail strategies consultancy WSO Strategic Retail.
"That says there has to be a semblance of utility, function and longevity -- it's got to span a few seasons, even a few year and withstand the hot and cold of trends."
There were still more plaids and nubby fabrics to be seen at Robert Geller, who showed looks mostly in gray, charcoal and black. Edwardian-influenced models sported oversized, wrapped neck scarves, while trousers were rolled up above the ankles. A poncho coat was emblematic of some designers' voluminous cuts.
From Rag and Bone came more horizontal stripes for pants, jackets and sweaters, while topcoats featured wide fleece-accented lapels that suggested the shawl collars that could be found on sweaters and outerwear of many collections.
"We're finishing dress-down casual and moving to a dressed-up casual," Wolfe observed. "The changes are subtle, mostly in color and fabric, with colors moving richer and fabrics more luxurious."
"It's nothing too challenging, which would scare the average guy off. But we now have a generation of men who shop for themselves instead of their mothers or wives doing it for them."


By Chris Michaud

(Editing by Chistine Kearney and Bob Tourtellotte)
© Thomson Reuters 2022 All rights reserved.