Mens fairs: a real wealth of choices in Paris
Capsule is connecting Berlin and Paris. BPMW's New York-based fair will hold its second German edition this season and will connect directly with its Parisian dates. So much so that the organization is setting up an airlift by chartering a private flight between the two capitals to facilitate the presence of brands and buyers at both shows. This season, once again, Capsule will show its Heritage and preppy brands, its up-and-coming labels, and its sophisticated styles at the garage Turenne, 66 rue de Turenne in the Marais district.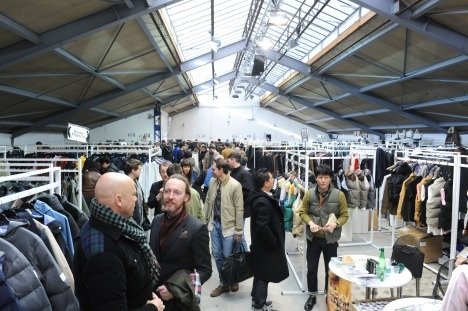 Capsule a affrété un avion privé entre Berlin et Paris pour les exposants et acheteurs (photo Pixel Formula)

Hipsters will flock to the cavernous halls between the 21st and the 23rd of January, where they will find the latest from Penfield, Wood Wood, Veja, Norse projects and Kulte. Among the some 110 brands present (versus 90 a year earlier), some notable arrivals will be Arc'teryx clothing line Veillance, Shipley and Halmos, Aviatic and Levi's which will add Levi's Made and Crafted to Levi's Vintage Clothing. 


On the same dates (21-23/01) and in the same neighborhood, the first edition of Man will be held at l'Espace 5bis, located at 5bis rue Froissart. Anthony Floch, former co-director of Rendez-Vous, will have just closed the doors of the New York edition of Man and bring a few high-end American brands along. The selection of thirty or so brands marries sound values​​, Heritage, minimalism and the made ​​in France label. Embodied in particular by the Paris Commune, Bérangère Claire, Le Mont Saint Michel, Fred Perry Laurel Wreath and Kitsuné Tee.
Tranoï for its part (January 20-22) will set up shop again at the Palais Brongniart in a place that suits the very creative show. The show will host 130 brands which vary greatly by geographical origin, with 30% of them Italian, 22% French, nearly 12% Japanese, 9% English, 6% Germans, and so on. It is precisely one of the strengths of the show that it offers such diversity. Also new is the Camera Moda Italiania Buyer which will celebrate ten years of its "best shops" at the show by bringing together many of the most exclusive retailers in Italy.
The British Fashion Council, for its part, will be highlights its existing talents. It will set up 19 designers at Loft, 3 Berard court in the fourth arrondissement from January 21st to the 24th. The selection promises to be eclectic. In the London Show Rooms we will find offerings from Martine Rose, Sibling, KTZ, Lou Dalton, Christopher Raeburn as well as Bernstock Speirs.
Anais Lerévérend, Olivier Guyot et Jean-Paul Leroy
Copyright © 2023 FashionNetwork.com All rights reserved.