Meet a few would-be powers of Facebook commerce
SAN FRANCISCO - Conventional wisdom says there is no F (as in Facebook) in e-commerce. But some enterprising firms - small-time merchants who would have just signed up with eBay Inc a few years ago - are now enjoying early success on the world's largest social network.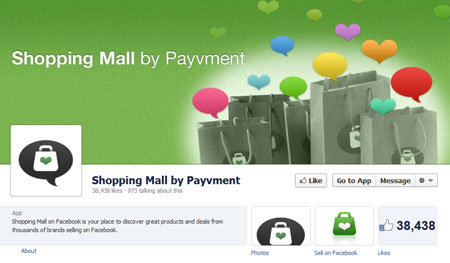 Payvment's Shopping Mall app on Facebook - the social network #1 e-commerce provider
These e-commerce startups, some backed by major financiers, are betting Facebook can become an e-commerce power to rival Amazon.com Inc and eBay. BeachMint, Yardsellr, Oodle and Fab.com are coming up with novel ways to persuade Facebook users to not just connect with friends on the social network, but to shop as well.
ManGlaze sells nail polish for men online and gets about half its sales from a Facebook store set up by Payvment, a startup that says it is launching about 1,500 Facebook stores a week.
ManGlaze started as an experiment to raise beer money, according to Marc Paez, one of the founders. But when he lost his job, he plowed his severance into the business.
Paez would not disclose how much he is making, but said the income from ManGlaze has replaced his old salary.
Adam Matar of RA Optics, which sells snowboarding goggles and other eyewear, started selling on Facebook last year and said he was moving about $1,000 worth of product every hour this winter.
College Hautees, which sells university apparel to women, launched in August and initially only sold through a Facebook store set up by Payvment. Owner Tamina Madsen set up her own website in December, but said about 75 percent of sales still happen on the Facebook store.
Success depends on two factors: the amount of effort store owners put into maintaining an active presence on Facebook and the type of product being sold.
Sports, fashion and beauty products do better because customers are often more willing to share what they just bought, or what they are thinking of buying, with peers.
"Some store owners have hardly any sales, others generate now up to 30 to 40 percent of their sales through Facebook," said Laura Valverde of Beetailer, which runs more than 3,500 Facebook stores for sellers.
© Thomson Reuters 2023 All rights reserved.