May retail sales lifted by discounters, rebates
By Brad Dorfman
CHICAGO (Reuters) - U.S. retailers reported a mixed bag of May sales results on Thursday, with consumers focused on lower prices and essentials like food, but signs emerged that tax rebates were helping to spur some spending.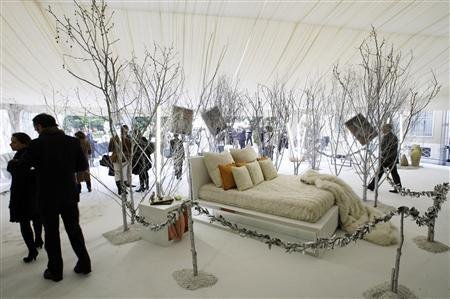 While many discount and warehouse stores topped analysts' lowered expectations, department store operators continued their struggles, as U.S. consumers spent cautiously.
Overall, same-store sales rose 2.5 percent, more than twice the average 1.2 percent increase forecast by analysts, according to Thomson Reuters data. That compares with a 2.9 percent increase a year earlier.
A total of 58 percent of retailers covered exceeded analysts expectations, while about one-third missed estimates, according to Thomson Reuters.
"We have this clear divide in where the strength is and where it isn't," said Michael Niemira, chief economist for the International Council of Shopping Centers. "The strength seemingly was in the less discretionary areas -- like discount, drugs and wholesale clubs."
Wal-Mart Stores Inc , the world's largest retailer, posted a better-than-expected 3.9 percent increase in sales at U.S. stores open at least a year, excluding gasoline sales. Analysts' average forecast was for a 1.6 percent increase, according to Thomson Reuters data.
Wal-Mart said it has seen some benefits from the tax rebates consumers began receiving in late April as part of the $152 billion economic stimulus package passed by the U.S. Congress.
MANY BEAT ESTIMATES
Wal-Mart shares were up more than 3 percent in afternoon dealings, while retail shares in general, as measured by the Standard & Poor's Retail Index .RLX, were up almost 1.5 percent.
"It looks like stimulus checks are having an impact this month," said Ken Perkins, president of Retail Metrics, noting that many retailers were beating Wall Street expectations.
The shopping center group's Niemira forecast a 2.5 percent to 3 percent same-store sales increase in June, further help by rebate checks.
But analysts also caution that once the stimulus funds are spent, longer-term issue like high consumer debt and soaring gasoline and food costs could still hurt sales.
"This is going to be a temporary blip in retail sales and consumer spending," said Bill Hampel, chief economist at Credit Union National Association, a trade group.
Costco Wholesale Corp , the largest U.S. warehouse club, said higher prices for gasoline helped it post a 9 percent rise in same-store sales, besting an average Wall Street estimate of 6.9 percent.
With consumer spending making up 70 percent of the U.S. economy, retailers' monthly sales reports are closely watched for signs of how deep the economic slowdown has become.
IT SELLS IF IT'S ON SALE
One higher-end department store chain, Nordstrom Inc , did beat estimates with a 10.9 percent increase in May same-store sales -- helped by the shift of a major sale event to May this year from June last year.
"It's driven by promotion," Sarah Henry, retail analyst at Sovereign Asset Management, said of the current retail environment. "People are willing to spend, but only if they know they are getting a good deal." Sovereign holds Wal-Mart shares and manages Nordstrom shares for clients.
In addition to the slumping economy, retailers also faced colder-than-normal weather last month, crimping sales of warm-weather clothing. It was the coldest May since 2002, according to Planalytics, and Wal-Mart said sales of seasonal merchandise that depend on the weather were soft.
BJ's Wholesale Club Inc posted a larger-than- expected 13.4 percent rise in same-store sales, like Costco helped by higher prices for gasoline. But it said air conditioners and summer seasonal goods were among its weakest categories.
Among retailers with lower-than-expected sales were department store operator Bon-Ton Stores Inc , which reported a same-store sales fall of 9.9 percent compared with an expected drop of 5 percent, and Victoria's Secret owner Limited Brands Inc , which posted a 6 percent decline, versus an estimate of down 5.5 percent.
Gap Inc posted a 14 percent drop, compared with an average estimate of a 9.5 percent fall.
Teen and children's apparel retailers were among those beating estimates, with Children's Place Retail Stores Inc up 10 percent, compared with an average estimate of 4.3 percent, and Buckle Inc up 34.7 percent, compared with an average estimate of 13 percent.
Department stores other than Nordstrom continued to be hurt by the weak economy. J.C. Penney Co Inc same-store sales fell 4.4 percent -- though that beat the average estimate of down 5.8 percent -- and Saks Inc posted a worse-than-expected 8.7 percent decline.
(Reporting by Brad Dorfman; editing by Gerald E. McCormick and John Wallace)
© Thomson Reuters 2023 All rights reserved.